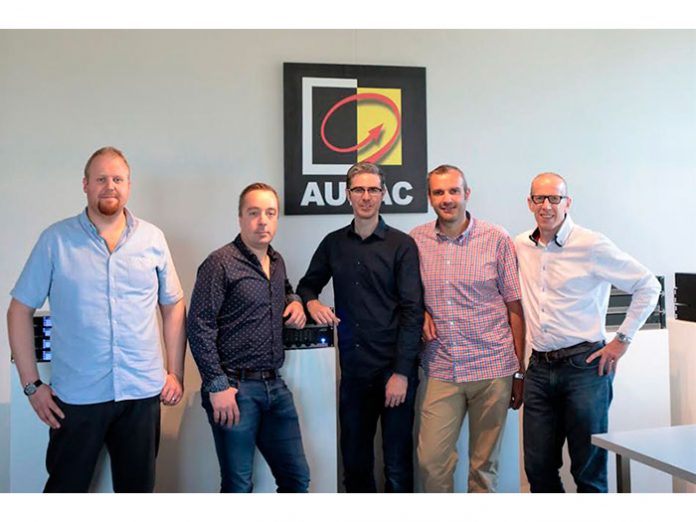 CUK Audio have announced an exclusive partnership with PVS of Belgium for the distribution of their three brands, AUDAC, Caymon and Procab, throughout the UK. AUDAC offers an extensive range of audio products designed for the fixed installation market, from digital matrix systems to loudspeakers of every type, shape and size, to amplifiers, preamps, microphones, wall plates and much more. Caymon and Procab provide racks, flight casing and cables. CUK Audio MD Stuart Thomson is genuinely thrilled to representing what he sees as a range of truly innovative brands at highly attractive price points.
"As CUK Audio has grown and developed over the years, our mission has always been to provide our clients with a complete solution," he explained. "From the very beginning, our biggest challenge has been to find great audio products at the lower end of the price range. To cater for this highly competitive part of the market, more often than not manufacturers simply buy a Chinese product off the shelf, modify it a bit and then brand it as their own. While that may work for loudspeakers, in our experience it's not a good approach for electronics as they are usually designed for Europe. Consequently they are often unable to handle the higher mains voltage in the UK which makes them inherently unreliable".
Thomson went on to explain that despite having tried out several brands over the years and looked at many more, none of them were truly satisfactory until the company came across AUDAC.  Thomson described it as "uncovering a hidden gem".
"Our visit to their Belgian premises was a real eye-opener," he admitted. "We were completely bowled over by the range and scope of their services, not to mention the quality of their products. They have an extremely talented design team who design all their electronics and also develop their own software and apps. As a company they have a solid vision for the future, a great range of products both existing and under development, amazing stock holding and so far, the best training facility I have ever seen from any manufacturer I have ever visited. No wonder I'm excited!"
"We're equally proud to be distributing the other PVS brands, namely Caymon who offer a great range of equipment racks, flight cases, accessories and stands; and Procab with its immense range of bulk and pre-made cables".
AUDAC's export manager, Mark Asselberghs, is equally delighted with the new appointment. "CUK Audio is a well-established AV distributor who knows their market inside-out. They understand the importance of not just selling a product, but the added value of excellent service and technical assistance at every stage of the project".
"CUK Audio were looking for brands that would help them to offer a complete audio solution at every level, and I am convinced that they have found that in AUDAC," continued Asselberghs. "I am sure that Stuart and his team will enjoy great success with AUDAC and place the brand firmly on the map in the UK market".