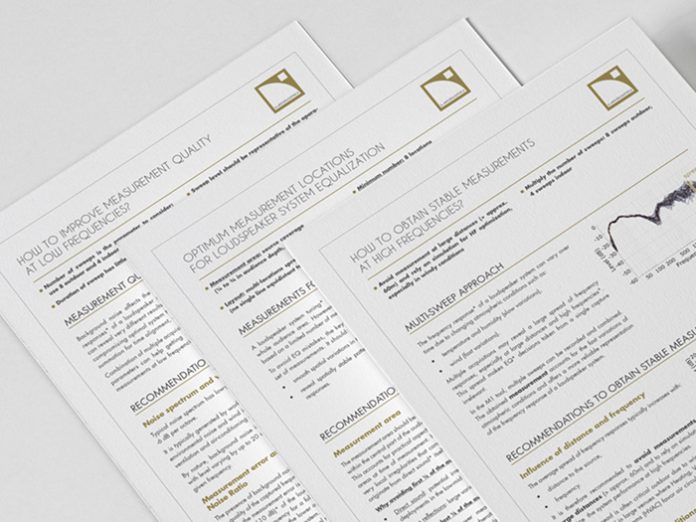 In line with its ongoing commitment to scientific research and the advancement of the audio industry, L-Acoustics announced the release of three new White Papers: Measurement Quality at Low Frequencies, Measurement Quality at High Frequencies and Optimum Measurement Locations for Loudspeaker System Equalization, all available for download on the L-Acoustics website.
"Our White Papers have been conceived in a condensed format, and are published on our website and social media channels, in order to reach the widest possible audience," said Etienne Corteel, Director of Education & Scientific Outreach at L-Acoustics. "They are formatted to present our rigorous scientific research in a user-friendly way, and represent our commitment to the wide acceptance of science-based sound design principles."
At the same time, L-Acoustics has made its entire catalogue of AES scientific articles available for download free of charge for the first time. This includes recent subjects such as Optimum Measurement Locations for Large-Scale Loudspeaker System Tuning Based on First-Order Reflections Analysis and On the Efficiency of Flown vs. Ground Stacked Subwoofer Configurations, through to its landmark AES article, Wavefront Sculpture Technolgy.
L-Acoustics has a long and consistent track record of educational outreach. Last year, its teams conducted 700 days of training, 200 of which were completed at recently established L-Acoustics Authorized Training Centers in partnership with key Certified Providers. Six thousand certificates were granted to more than 2,000 trainees via these programs, which took place in 60 countries around the globe.
This commitment to educational outreach was immediately adapted to the current situation when, on March 17, L-Acoustics Application, Education, Marketing and Communications teams worked together to create a program of daily online webinars, aimed to help industry members update and sharpen skills on L-Acoustics products and tools. Hosted at 5pm Paris time / 8am Los Angeles time every weekday, the webinars cover categories like Education, but also Application Case Studies, Product & Technology Outreach and Conversation with the Pros, featuring guest speakers. The calendar of upcoming webinars can be found on the L-Acoustics website and all completed sessions are made available on YouTube to watch at leisure.
"As with our traditional training, the webinars are conducted by expert professionals, selected for their skills and experience in the audio industry. This will allow our users to utilize this time of forced hiatus to expand their knowledge on the L-Acoustics workflow," added Etienne. "Until we can again offer our traditional training and L-Acoustics accreditation programs, we wanted to allow L-Acoustics users worldwide to have access to a free online resource."