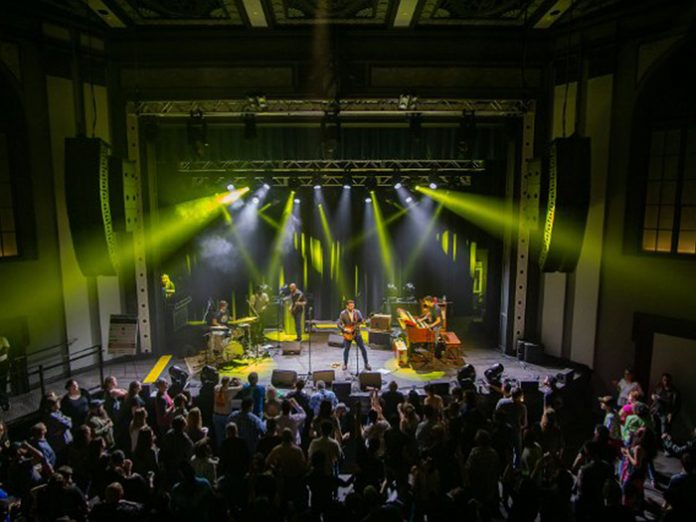 Once a rough-and-tumble cog in Pittsburgh's steel and coal industries, McKees Rocks has become a pleasant suburb with an interesting past and a bright future thanks to several major projects sparking the renewals of its downtown. The jewel of these is the renaissance of the long-shuttered Roxian Theatre, which reopened in May with a terrific slate of upcoming headliners for the 1,400-seat venue, including Snarky Puppy, Bruce Hornsby, Bad Religion, The Psychedelic Furs, Common, Avril Lavigne, and !!!. One of the things helping to attract acts of this calibre is the Roxian's new L-Acoustics Kara(i) loudspeaker system, which was designed and installed by Hollowood Music & Sound.
The 90-year-old theatre, once a former vaudeville house, had closed in 2003 and remained vacant until local entrepreneur John Pergal, who also owns nearby Lawrenceville's Thunderbird Café & Music Hall, worked with several partners to buy the property from the McKees Rocks Community Development Corporation in December of 2017 as part of the neighbourhood's reawakening.
But Pergal isn't just an owner; he and his blues band, the Pawnbrokers, will often play the club, such as the acoustic-duo sets he does with the band's guitarist on Friday nights before the opening act. "Acoustics and sound systems are afterthoughts at a lot of venues," he said. "But not at this one. We had to have the best, and now we do."
Hollowood Music & Sound, whose Brad Hollowood represents the 54-year-old company's third-generation and also supervises its installation department, may have found the theatre's location convenient—his store is literally several doors down from the venue—but the venue itself presented some sonic challenges.
"The theatre has a pretty large balcony, and the intent was to host a wide range of music genres, so the sound system had to be able to cover all those bases," said Brad, adding that his installation department has also done projects at Heinz Hall and for the Pittsburgh Symphony. "We used L-Acoustics Soundvision software to get a very precise acoustical model of what the sound would do in this space, and when we plugged Kara into those specifications, it came back a perfect match."
The Kara(i) enclosures also offered the compact form factor needed to maintain clear sightlines from the balcony, and the kind of weight-to-performance ratio that made it a good candidate for the near century-old venue's ceiling. "Kara's size and weight were ideal for this project," he said. "Plus it's a clean looking system, which is certainly important for a historic venue like this."
Hollowood Music & Sound Installation Technicians Nathan Shapert and Dylan Engles received training on Soundvision, as part of the company becoming an L-Acoustics Certified Provider for installs (CPi), and worked closely with L-Acoustics Product Manager Scott Sugden and Application Engineer Jesse Stevens to refine the system design before installation and system tuning after it was in place. Hollowood cites that kind of close support and collaboration for why Hollowood Music & Sound is an all-L-Acoustics house. "They have the products we need for a wide variety of jobs and the experience to support us for all of them," he said. "And, of course, they all sound awesome."
Roxian Theatre's new sound system consists of two dozen Kara(i) enclosures, hung 12 per side and each backed by three SB18i subs, all powered by seven LA8 amplified controllers. In addition, four KS28 subs are positioned underneath the stage, powered by one LA12X amplifier. Six short-throw X8 loudspeakers, driven by a single LA4X, are used as front fills, while eight more X8 fill in under the balcony, powered by another LA4X. On stage, 11 larger X12 serve as monitor wedges powered by yet another LA4X, and three SB18m are used as stage side fill subs and for the drum fill, collectively powered by two LA12X.
Venue Owner and Managing Partner John Pergal is superbly pleased with the performance of Kara(i), both as a club impresario and as a musician. "The vocal clarity is amazing and the bass is really tight," he enthused. "I've personally played through many line arrays, and I go out to lots of different venues all the time to hear music, and this system sounds as good or better than any I've listened to—including the monitors, which most club owners will never hear! For me, the whole idea of restoring the Roxian was about live music; that's what I'm in it for. I want it to be a great experience for everyone who comes here, and with our L-Acoustics system, it absolutely is."