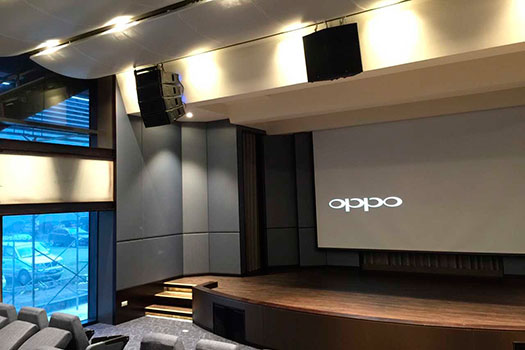 A Proel Axiom compact line array has been installed in the auditorium of the Küttner Asia company in Taiwan as part of a refurbishment program.
Küttner & Co, headquartered in Essen, Germany, is a global leader in systems design, engineering, and installation of foundry equipment and steel mill technology. Amongst its many branches worldwide, Küttner Asia Company provides procurement and contracting services in Taiwan.
To meet the varied requirements demanded of a new sound system, the company insisted that prospective products should be able to demonstrate both good sound quality and clear speech intelligibility. In the midst of intense competition with other leading loudspeaker brands Proel's Axiom line array was considered to have performed the best during demonstrations, and eventually was selected by the project directors.
Proel's distributor in Taiwan, Fantasy Sound International, supplied and appointed a local dealer to install the Axiom loudspeaker system after submitting an equipment design based on careful consideration of the client's expectations. The 330sq metre multi-functional auditorium has a seating capacity of just over 100, serving as a conference room for meetings, a theatre for staff entertainment, and a ballroom for greeting visitors and guests. Two loudspeaker clusters, each made up of four AX2065 dual 6.5-inch compact line array elements, are flown left and right, with a pair of ED12P passive 12-inch two-way loudspeakers flown in the centre above the stage. In each line array, two units are AX2065A active models providing sufficient amplifier power to run the two additional AX2065P passive models. Two SW215A active dual 15-inch subwoofers provide low frequency extension from discreet under-stage locations. Four low profile ED25P dual 5.25-inch passive loudspeakers are located at the rear and sides of the room as surround units. The system is run from a Proel MLX2842 28-input, 6-bus live sound mixer from the control room at the rear.
Fantasy Sound's CEO, Mr Ian Yeh said: "We worked closely with the client to ensure we could achieve excellent sound quality for all of the venue's varied purposes of this venue, so versatility was a key requirement. The fully powered nature of the system makes it easy to control audio parameters remotely with the Pronet software and set up different configurations depending on the specific event taking place. We are very happy that Axiom stood out in demonstrations against intense competition, and the project owners have shown their satisfaction at the performance of the new loudspeaker system."