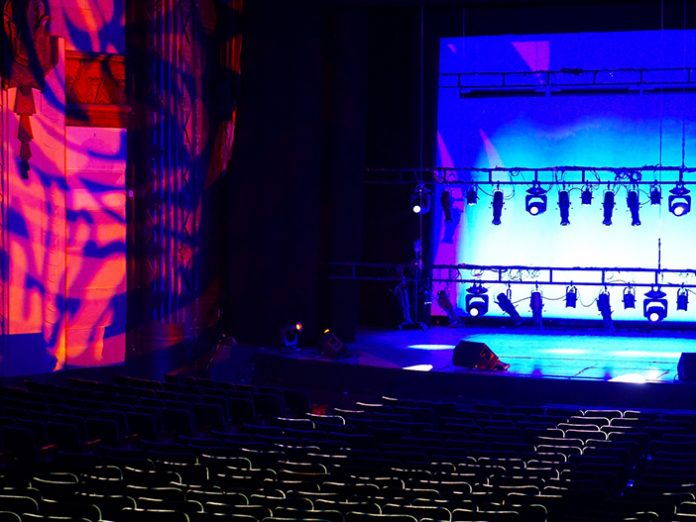 The Warner Grand Theatre is an opulent art deco venue that is moving into a new era of performance excellence with the help of Kinetic Lighting and Elation Professional's theatrical-grade Artiste DaVinci LED moving head.
Kinetic Lighting has been working with the Warner Grand Theatre on the project since October of 2018, assisting with site visits, demos, quoting, and spec'ing of equipment. "The theatre wanted an all LED upgrade to get current with technology and be able to provide renters top-of-the-line, industry standard equipment," stated Kinetic Lighting's Laura Green. "They were looking for an LED source moving light with color-mixing and great gobo options, something that was lightweight and compact and the Artiste DaVinci met all the requirements. It provides stunningly bright and saturated colors and can be used for specials, gobo washes, effect lights, etc. They are versatile enough to be used for everything from theatre and dance to concerts and film shoots."
Spread across box booms, the deck and overhead electrics, the award-winning DaVinci is an energy efficient CMY and graphics luminaire with a 300W LED engine and 7° to 48° motorized zoom that powers out over 12,000 lumens. "They will be able to make more artistic choices now that they have not only the functionality of moving lights, but color-changing and gobo options that they didn't have before. They don't have to dedicate static fixtures to specials for certain colors/gobos anymore," said Laura, adding, "They are thrilled with the results and so happy to have these new fixtures."
Kinetic Lighting project-managed the install, designed a plot, installed, prepped, addressed and programmed the new lights, and provided training on the new fixtures. Other new fixtures in the upgrade include ellipsoidals, battens, par lights and followspots – all LED based – along with a new lighting console. The LED upgrade has allowed the theatre to cut its power costs dramatically while realizing savings on both labor and lamp costs. The upgrade to color-changing fixtures has eliminated the need to cut and use gels and the new moving lights allow fewer lights to be hung for specials.
The lighting upgrade was completed in late November with a San Pedro City Ballet performance of "The Nutcracker" this past holiday season the first performance using the new gear.