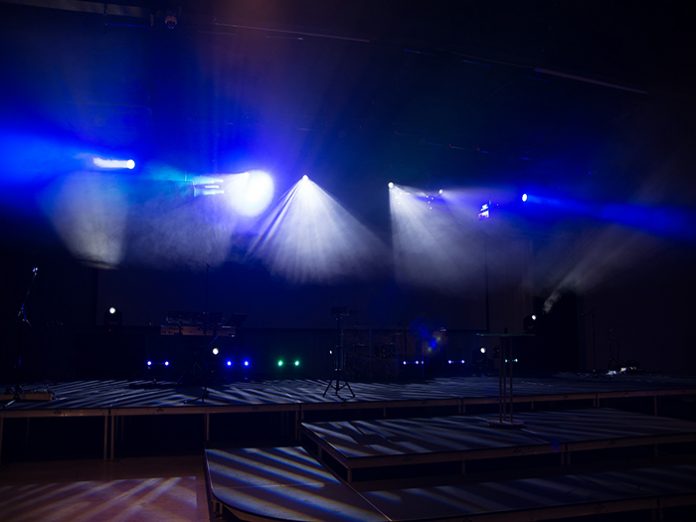 In 2017, Guts Church in Tulsa, Oklahoma decided on a complete upgrade of its 1,500-seat main sanctuary lighting system and, because the facility is somewhat limited with power availability, decided to go with LED lighting as the obvious solution.
"We wanted an extremely versatile profile fixture that was both efficient and powerful, something that had a really good punch, packed with features and an extremely rich palette of colours," stated Technical Director and Director of Worship at Guts Church, Daniel Yarbrough, about their decision to go with new Elation Professional Artiste DaVinci moving head lights. "When I saw they included gobos, an incredible zoom and wide array of other parameters at that price point, it was an easy sale."
Installed in August of 2017 by Toucan Productions, the lighting upgrade replaces older 575W and 700W discharge fixtures. Although the Artiste DaVinci houses a 300W LED engine, they output over 13,000 lumens, which is comparable to 700W discharge lamp fixtures. "Brightness was a huge factor for us," Daniel said. "I needed something that even in darker colours can be punchy and effective."
The Artiste DaVinci fixtures, used in weekly services and for special events, fulfil a few different roles. A pair of fixtures hangs midway back in the sanctuary, over the audience, and are used as spotlights for vocalists. "The colour temperature and tight zoom made this a huge success," Daniel said.
Other DaVinci fixtures are located upstage and are used in conjunction with other Elation lights for worship effect lighting. Others are spread out on the deck to create more eye catching looks. The Elation lighting was supplied to the church by Toucan Productions of Oklahoma City, a growing company with a dedicated church division that supplied a level of support that Daniel is clearly happy with. He commented: "William, Chauncey and the entire Toucan team have been incredibly helpful in their support in this project. I came to William with a blank palette and a desire for a major production upgrade and he brought up the DaVinci for me to demo along with some Elation matrix panels and ACL Bars. I knew that these fixtures were what I was looking for. I went to the drawing board and created a design with our Chief Lighting Programmer Chris Collier. We sent it over to Toucan and a week later they were here installing the fixtures. They have been incredible with their service and support."
In the past, Daniel had used top name lighting brands at churches and at a production company he used to work for. He admits he wasn't entirely sure what to expect when it came to the Elation fixtures. "What I have seen is a fixture that does not compromise on quality and service for a better cost," he concluded. "I would highly recommend these to anyone looking to add to or update their look in any way and for any format."