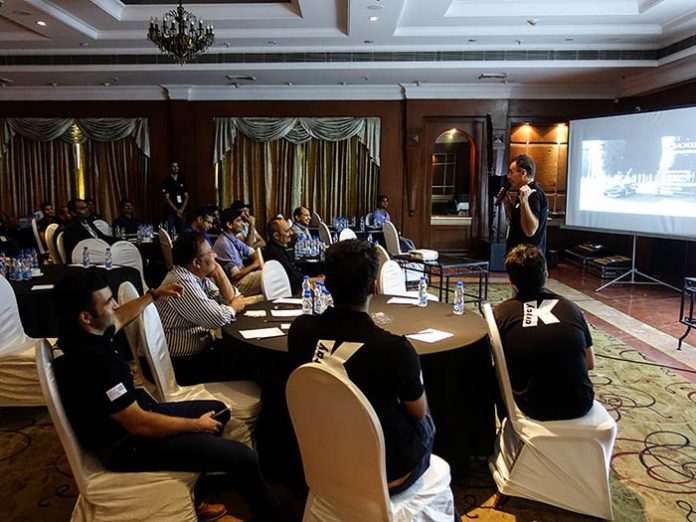 The newly-formed network partner will be responsible for the sales and service of the K-array brand throughout the entire country.
ISD (Italian Sound Design) is a specialised distribution chain of K-array and has been conceived with the aim of servicing major markets through an independent sales development approach. The launch of ISD India follows this new strategy that was put into motion earlier this year with the establishment of K-array China and ISD Japan.
ISD India is run by Sawan Nichani, Sameer Nichani and Sidharth Dham and their dynamic team and offer easy access of K-array products and services to the pro audio industry. The newly-formed, but experienced group will aim to bring the K-array brand to the forefront in India.
K-array has high expectations for their partner in this large, yet complex market. "I believe ISD India will quickly escalate K-array in the country as I can already feel the sector's enthusiasm and appetite for the high-end, unique audio solutions we provide," said Marc Vincent, K-array's Director of Sales – APAC.
The team has already set out to meet their goals and launch the brand by hosting an informative K-day on July 13 at Lutyens Resort Delhi where over 60 industry professionals gathered to learn about K-array. The day was punctuated with a K-academy workshop, Installed Sound Overview and Applications, presented by Product Specialist Daniele Mochi from K-array Global in Italy.
The event was also an opportunity to present the Italian manufacturer's most notable products to the market, including the most discreet system in the K-array portfolio, the Azimut, along with the most unique of their audio solutions, the flexible Anakonda speaker. The full-day workshop was followed by an evening reception where participants were able to experience first-hand the high-quality sound performance of K-array's systems.
Alex Tatini, co-founder and president of K-array, reflected upon the success of the event and the bright future of ISD India: "It was important to get off on the right foot in such an important market as India, and ISD India demonstrated their willingness to take the brand to new heights. We look forward to a productive partnership."