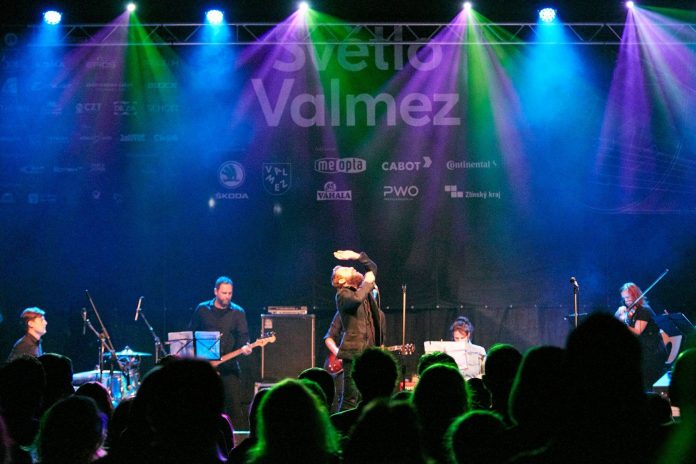 More than 25,000 visitors, over 20 video mapping and light installations, three stages and several performers and bands during one evening in a small Czech city. The second edition of Svetlo Valmez light festival has overcome all expectations and become a real fixture on the European light festival calendar.
"When we thought about this idea to do a light festival in a small Czech city, we wanted to bring to Valasske Mezirici something new, something fresh and modern. Now, we know that we started an amazing tradition and something really unique and global." said Festival Director, Pavel Roder. After the pilot edition, this festival won very prestigious award – The Best Czech Event for Public, organised by Czech Event Association.
Three music stages during Friday afternoon hosted students of the local art and music school. For the evening, organisers invited iconic Czech bands. The fans were completely amazed by the concert of Klara Vytiskova & The Pop band, then Groove Army. Award-winning Jan P.Muchow played for a completely sold out city square. The Czech pop star Thow Artway performed first on the Cabot stage.
The festival was unique thanks to the combination of light, arts, music performances, food festival and YouTubers competition. The world-class rated YouTuber, Jirka Král – over 1.2 million followers – was the main star for the SKODA AUTO zone. He played on a huge 25-metre wide projection on a building wall.
"We are very pleased with this success. The creative team and production team worked very hard on the programme. We are not big production and, with a few young people full of enthusiasm and energy, we created something unique. I am very proud of the Meopta – the magical world of optics zone. Hundreds of children have been fascinated by the UV light, how the lasers works, the 'mission impossible' laser labyrinth and many more. I am sure it was amazing experience for children and parents, too," said Marketing Director, Jiri Baros.
Production and creative company, 3Apes from Bratislava, led by Creative Director, Martin Vozar, was one of the main suppliers. Czech leader in audiovisual communication, Prague-based AV Media, supplied the big projectors. For the main video mapping installation, they have chosen Panasonic PT-RQ32 with 32,000 ANSI lumens and 4K resolution. Placed 50 metres from the Zerotin Castle wall, the projectors made a 42 x 22-metre display. The content was made by Stroj Studio from Liberec and celebrated the 100 years of Czech Republic. Next to the main installation was a smaller projection on the castle gate, provided by Hitachi with 13,000 ANSI lumens.
The unique SKODA AUTO zone with the split screen game was illuminated by Panasonic PT-DZ21K with 21.000 ANSI lumens. At the event, SKODA AUTO launched the new Skoda Fabia. The car was placed in a KOMA Modular container illuminated by 50 LED bars controlled by a Showtacle system. Another two Panasonic projectors have been used for a unique project called 'Detske kresb' – a project that saw 2,500 children from local kindergardens, basic schools and partners school from Visegrad draw their imagination of three historical buildings. Organisers converted the drawings into the 3D world of the real buildings and projected them by use of three Panasonic PT-DZ21K. Each of the projections was 20 metres wide.
Apart of the big projections, there were more the 10 other 5K ANSI used for small light installations and festival navigation.
All installations have been controlled by Coolux and Green Hippo's Hippotizers systems. The TRON GIRLS – finalist of the Czechslovakia Got Talent show – in LED suits opened the gala evening in the completely sold out city square.
Local culture agency, M klub, used architectural lighting manufactured Precilum to deliver an experimental installation in the catacombs of Zerotin Castle, using LED lights with more then 200.000 lumens. Entry was only allowed with use of special protection glasses.
The street of art was full of creative and artistic installations made by local artists and students. Precilum created special light pipes which reacted to touch, changing colours and music tones.
This project showed that, in the small city, you can hold a world-class light festival with many installations for thousands of visitors. Admission for free, too, with the project supported by local government and local companies, as well as many volunteers.