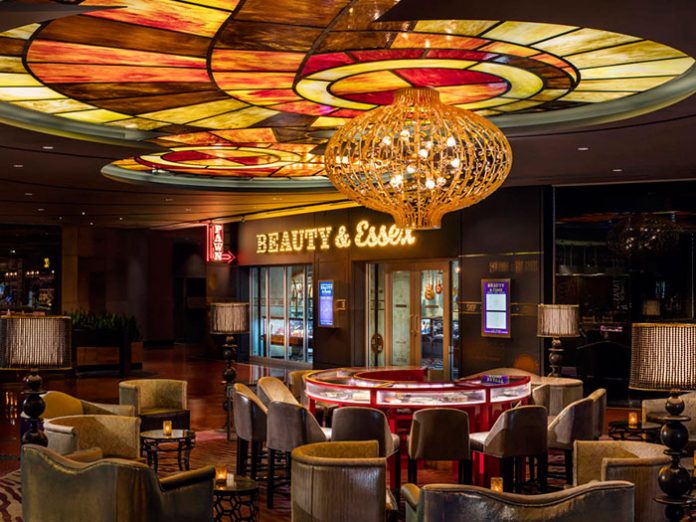 Just opened at the Cosmopolitan of Las Vegas, Beauty and Essex is a partnership with Tao Group and acclaimed chef personality and restauranteur, Chris Santos. A sophisticated, jewel-toned spot with vintage decor offering new american plates, drinks and wine, Beauty and Essex is a pawn shop-themed concept restaurant and the latest to open right off Las Vegas Boulevard.
The client was looking for great quality sound from discreet, unobtrusive speakers for the audio system in the restaurant. Given that they are very selective of their vendors, ultimately considering them part of their team, Tao Group called in Anthem Productions as they have a long successful history that surpasses two decades of collaboration.
"The owners understand just how critical the audio system is to their success", explains Joe Lodi, Founder and Systems Designer at Anthem Productions. "At the top of their list, the owners prioritised sound quality and aesthetics. At this venue, the system must sound amazing at both low volumes for dining and at high volumes for dancing. Bringing aesthetics into the fold, the speakers must disappear into the environment".
Understanding their requirements, the reliability of the equipment was taken into careful consideration. "Not only will the system have to sound great, it must perform perfectly under stress day after day, night after night and year after year".
Anthem Co-Owner and Project Supervisor, Angelo Poulos, connected with exclusive distributors K-Array America to provide a system comprised of 10 X KP102 Python Loudspeakers, 8 X KK102 Kobra Loudspeakers, 18 X KMT12P 12″ Passive subwoofers and 19 X KT2C Tornado ceiling-mounted point sources powered by 6 X KA84 and one KA24 amplifiers. John Campbell, also Anthem co-owner and systems engineer made everything come together with pinpoint accuracy.
"K-Array was our answer. Not only did it do its job extremely well, meeting all sound requirements, it also blended into its surroundings like no other. We simply do not believe there is another speaker system that compares to K-Array in these applications. We achieved studio quality sound that can get inconceivably loud with ease. With proprietary details both from the engineers at K-Array and the team at Anthem the finished product is simply unmatched", explained Lodi.
"The owners of the Tao Group trusted us to come through and with the help of K-Array we achieved beyond what anyone could have imagined".