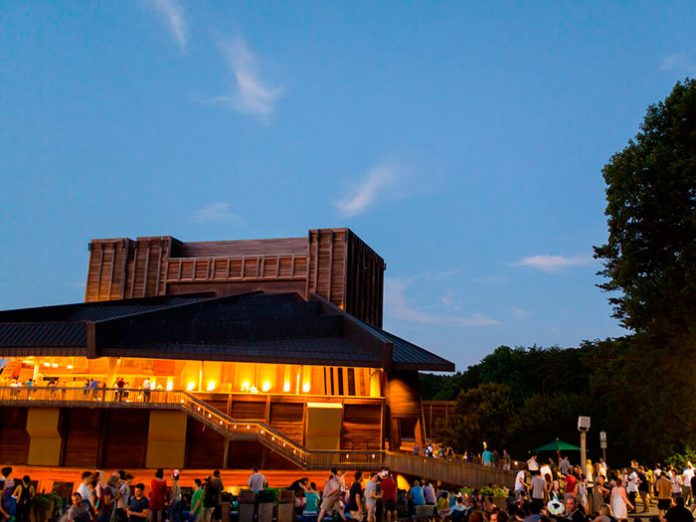 Wolf Trap National Park for the performing arts, the only unit of the US National Park Service dedicated to presenting the performing arts, has added multiple grandMA2 lighting consoles to its Filene Centre. A.C.T Lighting, Inc. is the exclusive distributor of MA lighting products in North America.
The Filene Centre is the 7,000-seat centre piece of Vienna, Virginia-based Wolf Trap,which offers multiple amphitheaters for performances staged annually from mid-May to mid-September. Columbia, Maryland's 4Wall Entertainment Lighting provided the equipment: a grandMA2 full-size downstage right for primary stage lighting control and another in the lighting control booth; a grandMA2 light mobile system that can be rolled in and out as needed; two NPUs and two motorised fader wings.
"We have equipment to do all live performing arts formats: dance of all types, opera, theatre, symphony, all manner of pop music," says Kenneth J. Lewis, production manager and chief of the division of performing arts. "We need a lighting control console that's familiar to people in the industry, that lighting designers for a number of visiting artists can use without extensive retraining. And it has to be powerful enough for very large productions. Our original MAs worked well, and our new MA2s continue in that tradition."
The Filene Centre had been using grandMA consoles since 2008. "We wore out the buttons," reports Henry Parks, head electrician at the Filene Centre, "so it was time to upgrade. We've been very happy with the grandMAs. They have the flexibility that the majority of our shows require; we need to be able to deploy different modes really fast. Lighting designers know them better than any other brand: 90 percent of the consoles artists bring with them are grandMA2s."
After renting grandMA2s for a while the Filene Centre decided to move forward with a purchase, says Scott Church, General Manager of 4Wall DC. "We supply all the centre's lighting rentals and demos for productions large and small, as well as galas," he points out. "We worked with A.C.T Lighting to deliver the grandMAs in a very smooth process."
Parks likes the ability to network several grandMA2s together over Ethernet and the support of multiple protocols. He also cites the system's filtering storage, masking feature, built-in colour picker and easy way it handles colour presets.
As soon as the grandMA2s were delivered they went to work on Tony Bennett's touring show, which stopped at Wolf Trap. Two National Symphony Orchestra (NSO) performances followed: one a classical show and one with the symphony accompanying a screening of "Star Trek: Into Darkness." Next up was the Wolf Trap Opera Company and the NSO in a full-scale performance of "La Boheme." "We had limited time to program the opera, but within a day everything was locked down and went very well", explains Parks.
The balance of the Filene Centre's summer schedule displayed the variety of performing arts at Wolf Trap. The new complement of grandMA2s ran shows for the NSO Pops, the Silk Road Ensemble with Yo-Yo Ma, Classic Albums Live, Jazz at Lincoln Centre with Wynton Marsalis, and Kristin Chenoweth.