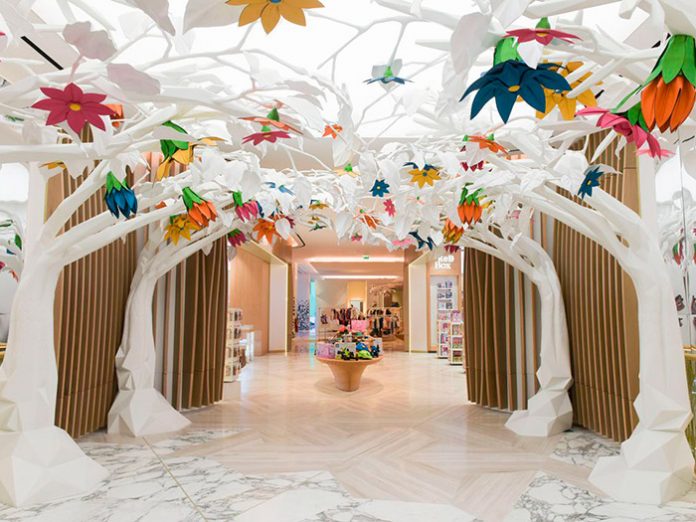 Redwood Technologies, a home technology and AV system services company based in Dubai, chose K-array solutions for an elaborate installation at City Walk Dubai, an urban living concept with a unique mix of innovative retail and upscale gourmet outlets.
Clients for the outdoor retail complex were in need for high-performance speakers that combined sleek, compact design with professional sound for a particular display, making K-array the perfect choice for the application where aesthetics weighed as much as the sound performance.
Simulating an enchanted forest, the entrance to the children's level at the mall contains a display lined with fabricated hollow tree structures where the client intended to replicate the sounds of birds tweeting and autumn breeze blowing without affecting the creative setup.
Procom Middle East, K-array's exclusive distributor for the Middle East, supplied Redwood with 18 white KT2 Tornado loudspeakers that are compact 2" ceiling mounted, point sources providing also the DSP parameters for the application. The mini, ultra-discreet speakers blend perfectly into the design providing high quality audio without obstructing the overall display design.
"The installation of more conventional ceiling speakers was simply not possible. explains Mr. Nathan Williams, Director at Redwood Technologies. "Anything surface mounted would have ruined the natural feeling of the space. With the discrete and compact form factor of the K-array Tornado, we were able to meet and exceed the client's expectations providing them a solution that also sounds great!"
Not only were the clients happy, K-array was so impressed with the uniqueness of the application, they awarded Procom with Most Creative Project 2016 during its annual distributor's meeting in October. "This project is representative of our company values using creative thinking and innovative technology to construct a one-of-a-kind audio experience," says Alessandro Tatini, co-founder and president of R&D, K-array. "My compliments to the entire team!"