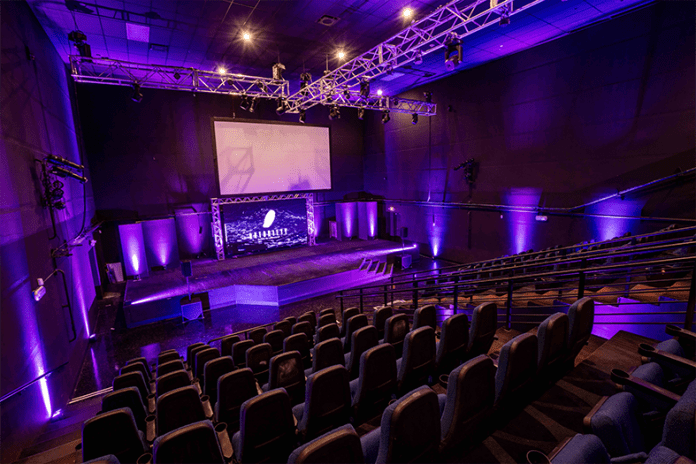 Clear and Immersive Audio Experiences for Nightclubs and Bars, By Brandon Heinz, Product Manager at Renkus-Heinz.
The worst part of stand-up comedy is when a joke doesn't land. There's plenty of artistic reasons this can happen – but one reason for this challenge should never come from the audience's inability to hear or understand the talent.
The need for quality audio can apply to any nightclub and bar space catering to live performance. From live music to spoken word, impressive, immersive, and intelligible sounding audio is critical.
This thinking should be applied just as judiciously to the bar and nightclub spaces without live performance. The crafting of a mood, theme, feel, emotion, and sense of space is vital to the success of these environments. There are studies linking the correct use of music to the amount of food and drink being ordered. And, from an architectural and artistic standpoint, the use of sound can provide the fabric to bring a fantastic space together.
Further, there are multiple by-the-book business reasons to ensure sound is of a high quality in bars and nightclubs. Firstly, you are competing with other establishments in the area who will, most certainly, be considering how to best solve the audio equation in their space. Two competing bars, for example, have only a few differentiating factors; quality of service, quality of food and drink, and the effect the 'vibe' or 'feel' a space has on the patrons. Second, as we reenter the physical world left in limbo by the global pandemic, there will likely be a desire for authentic and genuine experiences among patrons. Ensure you are living up to the expectations of these individuals and give them a reason to come back. 
As touched upon above, there are various considerations to make when installing audio systems in these spaces. Will the venue have live sound? Does the system need to account for spoken word as well as music? What is the maximum capacity of the space? How about the minimum?
And a new one: how will the system perform when social distancing guidelines are in place?
Let's take a look at a few examples of live sound installations to see what was most important to the end users.
As hinted to in the lead of this article, one place where high quality audio is critical is in the spoken word environment of a comedy club. The Sandman Comedy Club in downtown Richmond, Virginia knew this from the planning stages of the business and opened its doors with digitally steerable loudspeaker arrays which place audio where it's needed it most: on the audience.
#SteerableSaturday @NotorietyLiveLV in Las Vegas re-energizes the LV music scene with two theaters both equipped with the Renkus-Heinz ICLive X Series. Join us Aug. 31 for a live demo in the aptly named "Renkus-Heinz Theater!"

RSVP here: https://t.co/9Irj3NU6Wy #EndofSummerDemo pic.twitter.com/DOAb0FSYbe

— Renkus Heinz (@RenkusHeinz) August 21, 2021
By digitally positioning audio in the club, the end user ensures the highest possible level of performance intelligibility. Audio stays away from reverberant surfaces – preventing audio quality depreciation – and is heard clearly only in the locations where it's intended to be heard.
This means there is no 'turn it up to 11' moment by the club's stand if sound seems problematic – a common reaction typically resulting in harsh audio. Instead, the club is confident in its audio system's performance.
The Notoriety Live music hall in Las Vegas has multiple performance spaces focussed on creating the same impressive feel of a major venue but in smaller spaces. This was, again, achieved by using digitally steerable loudspeaker offerings. 
In addition to avoiding reverberant surfaces, digitally steerable solutions provide a consistent and symmetrical array of high and low frequencies along the entire length of a loudspeaker array. This means you can choose any acoustic centre, further improving the quality of spoken word and musical performances.
While we continue to navigate the pandemic, one goal remains intact: to return to the venues we love when we can do so safely. Humans are social by nature and returning to these social locations is a part of our shared experience. 
This is an important goal to remember when looking at audio systems, as something that gets overlooked with surprising regularity in nightclub and bar applications is the social aspect. Smaller bars and clubs often have a main dancefloor sound system, and additional distributed sound systems that cover the space relatively evenly, but they must be driven to high SPL everywhere when there is live music. This can crush any social scene on site.
One of the huge benefits of steerable systems in these applications is the capability to focus energy on the intended dance floor or listening area with extremely even coverage. In turn, you have reduced audio bleed into surrounding areas like the bar or dining tables. 
Traditional sound systems, even with large horns, will only be able to achieve a 6 dB drop in level every time distance doubles, whether on- or off-axis. Not only do steerable sound systems provide incredibly consistent coverage in the intended areas, but they also achieve a much more extreme drop in SPL off axis because of the underlying reactions taking place to achieve the steering in the first place.
Simply put, when the sound system is loud everywhere in a venue, it becomes a challenge to experience the social aspect of these establishments. Having areas where sound can be lower in level – allowing patrons to talk quietly with friends – leads to longer customer retention and more sales. 
Beyond the use of impressive, high-quality loudspeakers, there is also a need to consider elegant control options for the on-site staff. In a non-live environment, control is often left up to the bartender. Make sure they can intuitively and effectively use the system put in place.
Further, for the contractor, one critical element is to work with audio consultants and manufacturers who provide multiple types of solutions for bar and nightclub environments. Perhaps one of the biggest misconceptions is that digitally steerable loudspeakers are only for larger venues. In fact, with the right manufacturer and consultant, nearly any environment can incorporate expert design – which, in turn, ensures the highest quality audio available on the market today is available to even the coziest of bar spaces.
This article first appeared in issue 31.6 of MONDO-DR, which you can read below –