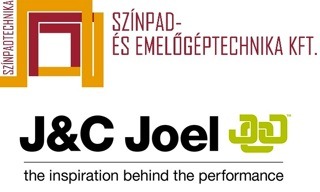 Leading manufacturer of flame retardant fabrics, drapery and stage engineering solutions, J&C Joel have appointed Szinpadtechnika Kft as their new bronze dealer in Hungary.
Szinpadtechnika was established in 1998 and is now one of the leading theatre engineering companies in Hungary. They design and produce stage machinery for theatres, cultural centres and film studios as well as providing machinery maintenance services for more than 50 venues all around Hungary in addition to getting involved with scenery design. The firm is also gaining recognition from the theatres in neighbouring countries and in light of this is aiming to be the leading company on the field of theatre engineering in the Carpathian Basin region.
Norbert Horvath, Sales Manager at Szinpadtechnika, said, "We are really excited to introduce the innovative solutions of J&C Joel in Hungary, I'm sure our customers will be really interested in the great product range that J&C Joel has to offer. "We really appreciate that from now on we can rely on this partnership, hoping that the great expertise of J&C Joel will complement our product and service range so that together we can provide complex solutions for our clients."
Roland Rizk, J&C Joel's Europe and Russia Regional Manager, said, "We are confident that partnering with Szinpadtechnika has great potential regarding the business development in Hungary. We are looking forward to tackling the market potential and to leverage on our combined expertise to deliver state of the art projects in the region," Roland concluded.