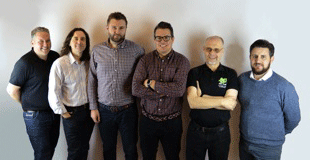 Leading manufacturer of flame retardant fabrics, drapery and stage engineering solutions, J&C Joel has announced a new structure for its Projects department.
Ben Richardson-Owen, previously Middle East Project Manager has been promoted to Head of Projects (International) alongside Fraser Davidson, previously UK and Europe Project Manager who has now stepped into the role as Head of Projects (UK and Europe).
Ben has worked for the company for 6 years and worked in the company's Dubai office for five years, returning to the UK office last year. He has a proven track record for preparing project methodologies, building and fostering project team's specific to individual client's needs, whilst also coordinating all design aspects of projects, using 2D CAD liaising with draftsmen and design engineers in delivering projects worldwide.
Fraser has worked for the company for 17 years, starting out as an apprentice installing J&C Joel products all over the world alongside J&C Joel's CEO James Wheelwright before eventually moving into the coordination and management side of Project delivery.
Matt Corbett, Operations Director, said, "We're extremely pleased to be able to promote both Ben and Fraser as they bring a wealth of experience to their roles and have been key assets to the J&C Joel Projects team for a long time.
"Ben has successfully recruited a diverse team with people on the ground in countries overseas, providing a valuable local connection ensuring our customers can access face to face support in their time zone with people who can speak the relevant language. Further skill sets added, include technical experience within the industry, local knowledge within each region and experience of time effective project management.
"Fraser has also built a formidable team within the last few months adding strength and depth to aid in the full turnkey solutions required by our clients within the domestic market place. "I believe they are the right people for the roles and have the right skills, work ethic and vision to lead and drive the team forward. I'm very much looking forward to working closely with them to implement innovative ideas and develop the department as well as seeing the team progress under their leadership."
The changes also see Alan Carradus join the J&C Joel team as a Project Estimator, Alan started in the industry in 1987 and brings a wealth of industry experience from theatre, production and live events. His impressive background includes project management in the West End, production management and technical management. Alan stated, "I'm really happy to join the team and look forward to a new challenge. I've known Joel's for a long time and I've used their products for a long time. Hopefully I can bring a level of experience to augment the existing output and help implement innovative ways of working."
Martin Radmall has also joined the business as UK Project Manager, Martin has more than 28 years of experience in the industry and comes with a strong background in events, television and theatre. Martin stated, "I am incredibly excited to be bringing my knowledge and creativity to J&C Joel, I love technical theatre and therefore I'm extremely pleased to join the team and bring old and new venues to life."
These new roles further strengthen the projects department both in the domestic market and internationally, bringing a wealth of experience to the existing team which now stands at 24 employees.