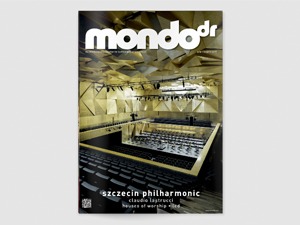 Inside this issue, it's a family affair as the Big Interview is with Claudio Lastrucci, R&D Director at Powersoft. Claudio discusses his family's influence on the business and its 20-year history.
The Report section covers a popular market and a new topic for mondo*dr, houses of worship. Various houses of worship are not tech friendly presenting acoustic challenges and aesthetic issues, which need to be overcome.
In Focus kicks off with the front cover venue in EMEA region, the award-winning Szczecin Philharmonic Hall in Poland.
The Americas region features The Bomb Factory, a venue that was transformed from a WWII bombs and ammunition factory to a 50,000 sq ft music and performance space.
The APAC region boasts the candy coloured Chimelong Ocean Kingdom's 5D Castle Theater, which may leave you speechless. Having set five Guiness World Records since the park opened, the 5D Castle Theatre is a truly audiovisual experience.
In Business section finishes the issue with no less than four show reports, KOBA show in Seoul, then to Palm Expo in Mumbai. The first ever Stage|Set|Scenery in Berlin and Infocomm in the sunshine state of Orlando.