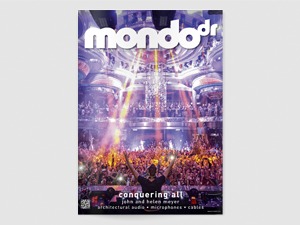 Inside this issue the Big Interview caught up with husband and wife duo, John and Helen Meyer to find out the humble beginnings of their relationship and what led to the founding of Meyer Sound. They also discuss their vision for the future of the audio industry.
The Report section focuses on architectural audio and is introduced by Mark Holden, Chairman of acoustic specialist company, Jaffe Holden. He discusses the importance of acoustics in different spaces. While the case studies that follow look at both acoustic challenges and aesthetic obstacles.
In Focus offers a plethora of venues from the EMEA and Americas region to sink your teeth into. Featuring Manchester's new arts centre HOME, a glittering new nightclub Omnia in Las Vegas, and an outdoor amphitheatre turned venue at Tokaji Amphitheatre in Hungary.
The mondo*dr team were fortunate enough to attend the product launch of Electro Voice's X-Series in Straubing, Germany read more in the In Business section.  And we finish the issue with two show reports from Guangzhou, The GET Show and Prolight+Sound, and the biggest show in our calendar year, Prolight+Sound in Frankfurt. Our report covers many new products that were launched at the show and plenty of images of all the people we got to meet.