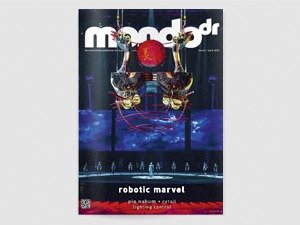 The March/April edition is mondo*dr biggest issue of year and tradeshow season has well and truly begun!
Inside, the issue kicks off with the Big Interview from industry veteran and Clay Paky CEO, Pio Nahum. Jerry Gilbert discusses with Pio the ups and downs of the industry and how the new Osram ownership is progressing.
The Report section looks at the niche entertainment genre of retail and reviews installer and retailer collaborations through a variety of applications.
In Focus offers a diverse selection of global venues, including historical theatres, innovative cultural projects and nightclubs offering a candy shop of colourful lighting designs. It also features a special double venue article looking at two Fabergé egg inspired clubs from different regions.
Ethan Wetzell and Marc Weber discuss the OCA Alliance and its strategy of producing a public, open and royalty-free communications protocol.
Finishing off the mondo*dr team reports on the NAMM and ISE tradeshows – and perhaps you will see some familiar faces!