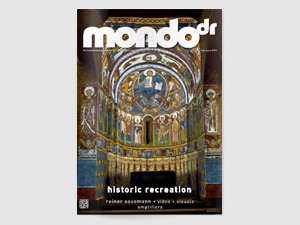 Here at mondo*dr we've welcomed 2015 with optimism, and we think the vibrant January / February cover reflects this.
Inside Camco founder, Reiner Sassmann is the focus of the Big Interview, discussing how his passion for rock 'n' roll led to a career in power amplifiers. Reiner's knowledge on the industry and insight into global affairs makes for interesting reading. The Report section looks at Video and Visuals offering a selection of visual spectacles from around the globe to tantelise you. In Focus has a host of venues from EMEA and APAC regions, featuring two classical music halls and looks at the challenges of outdoor installations.
In Business covers three show reports from the mondo*dr team and the Yamaha Rivage PM10 is the focus of our Product Launch. Finishing up our Last Page Interview we meet Alex Bryan, Export Manager at Fenix.