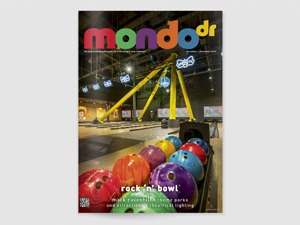 Possibly the first thing you'll notice about the November / December is the multi-coloured masthead. We decided to go bold this issue and whether you love it or hate it, there's no denying its striking appearance, no pun intended.
Inside, the issue kicks off with the Big Interview from the world of lighting. President of GLP's US operation, Mark Ravenhill is in the spotlight and having been in the industry for some time, he has plenty of stories to tell, which makes for a good read.
Two of the territory sections are taken over by round-ups, the first, a collection of UK venues and for the second we move to The States. The APAC region boasts a variety of venues from a performance hall to a club, an airport to a stadium, so plenty to tempt your interest.
You can also read about the launch of the PRO show and the reaction from the industry and finishing up we pay tribute to the late Pasquale 'Paky' Quadri in an extended Last Page obituary.