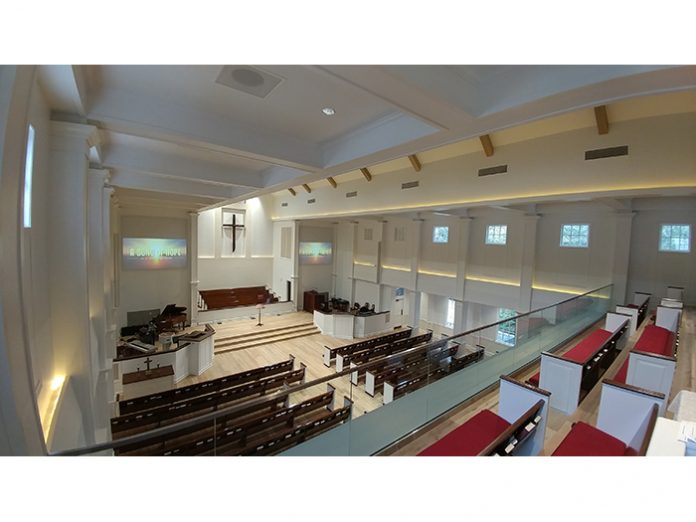 Nestled midway between New Orleans and Pensacola, Ocean Springs has a well-deserved reputation as one of the Gulf Coast's more laid back beach communities. Voted one of the ten Happiest Seaside Towns by Coastal Living in 2015, its historic and sheltered downtown is home to numerous art galleries and shops. In 2005, Hurricane Katrina thrust Ocean Springs into the public eye, with photos of devastation including the badly damaged Biloxi Bay Bridge making national and international news.
First Presbyterian Church has been a part of the Ocean Springs community since the late 19th century. The church's current sanctuary, dedicated in August of 1995, recently underwent a major remodelling and expansion, including a balcony and additional seating, as well as a new audio and video system centred around a pair of Renkus-Heinz Iconyx IC24-RN digitally steered array loudspeakers.
"It's an acoustically challenging space to begin with-hardwood floors, flat walls, high ceilings, and a balcony with a glass front," observed Magnolia Music's Rain Jaudon, who designed and installed the system with partner Tony Strong. Brought in during the planning phase, the Magnolia Music team were able to preview architectural renderings and design AV systems for the new space, which included a balcony above the existing foyer to host audio, video, and lighting control, and an additional 100 seats under the new balcony.
A pair of Iconyx IC24-RN arrays are mounted on either side of the stage. Part of Renkus-Heinz' ICONYX Gen5 series, the IC24-RN employs 24 4-inch coaxial transducers, each with three high-frequency tweeters. With multiple beams and acoustic beam centers and beam control effective down to 250 Hz, it offers precise sound control.
AsRain explained, the sound system needed to cover a wide range of program material. "They do two services each Sunday. One is contemporary, with electronic drums, guitars, keyboards, and a praise team. The other is a more traditional service, with digital organ, grand piano, and choir."
Aesthetics also played a dominant role, adding an extra twist to the project. "They've done a lot of custom millwork in the Sanctuary, and we knew that would dictate where we could place the speakers,"Rain recounted. "We also knew we needed a speaker that could blend in with the room's aesthetics. We ended up mounting them several feet higher than we would have liked."
Despite the challenges,Rain reported the Iconyx system delivered as expected. "Even in this tough acoustic environment, mounted ten feet above the platform, the IC24s were able to create nice levels of intelligibility. We were able to use the variable acoustic centres to cover the main floor from the bottom of the array and the balcony from the top of the array." A Midas Pro 1 handles FOH duties, with Biamp Nexia DSP covering system processing.
"We've used Iconyx on a number of projects, so we knew it was the right solution for this one,"Rain concluded. "Renkus-Heinz has been our go-to speaker company for many years now. They build a solid product and stand behind it."