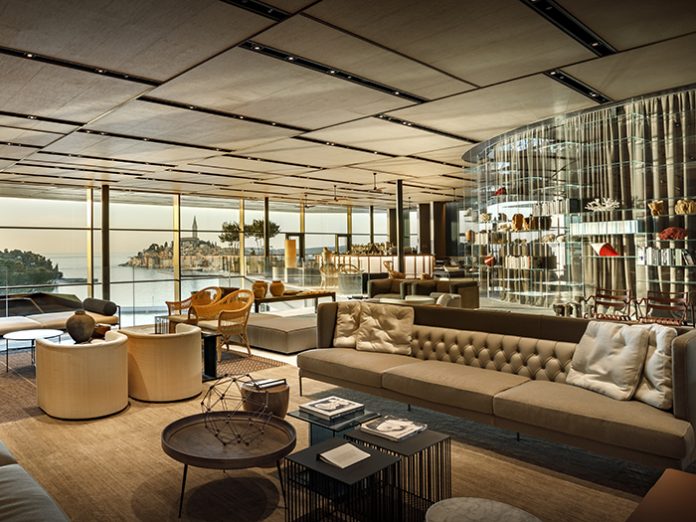 HUST d.o.o. has completed the design and installation of sound systems throughout the new Grand Park Hotel Rovinj, using a combination of Community and Apart loudspeakers with Biamp control. This five-star 209-room hotel enjoys a stunning setting on the Adriatic coast of Croatia, with breathtaking views of the old town, islands and sea.
Grand Park Hotel Rovinj is owned by Maistra PLC, part of the Adris Group. One of the leading tourism companies in Croatia, it manages 10 hotels, eight tourist villages, and six campsites in Rovinj and Vrsar, with a total accommodation capacity exceeding 35,000 beds.
With over 40 separate zones, the Grand Park Hotel Rovinj's audiovisual systems can be controlled and monitored via an intuitive GUI on any computer within the hotel network, or via separate wall-mounted digital OLED controllers located strategically throughout the complex. 12 choices of music genres are available in any zone via the streaming service.
A central feature of the hotel is its grand ballroom with stunning views of the city of Rovinj. The hotel also has three multifunctional/lecture halls, which can be divided or joined in various combinations. In these areas that require foreground entertainment and presentation audio quality, HUST chose Community V SERIES and D SERIES loudspeakers. Dual eight-inch and 12-inch V2 loudspeakers, supplemented by dual 12-inch and 15-inch subwoofers, deliver powerful high quality FOH sound, with distributed D6 ceiling loudspeakers providing additional, even coverage throughout the rooms.
The systems are managed by a Biamp TesiraSERVER I/O AVB digital network server, supplemented with a 16×16 video matrix and an audio mixer for live performances. In the ballroom, Sony SRG-300HC cameras have been set up to monitor and play back events on two large Screenline video screens, via Epson EB-L1405U laser projectors. All of the multifunction halls are also equipped with Epson laser projectors, with Screenline screens for optimum video quality.
Over 700 Apart loudspeakers deliver high quality background music throughout the hotel's public areas, including the lobby reception area, restaurants, conference rooms, pools and health and fitness areas. Grand Park Hotel Rovinj has the largest and most luxurious spa and wellness centre in Istria. Called the Àlbaro Wellness & Spa, it boasts an area of 3,500 sq metres and is divided into two levels both inside and outside the hotel.  HUST chose from the extensive range of CM Series ceiling and Mask Series surface mount loudspeakers to provide the optimum balance of audio quality and architectural design in each area.
Tomislav Stubičan of HUST commented: "The Maistra Collection brand sets the highest standards for hotels and this complex includes 193 rooms, 16 suites and extensive services and amenities spread over six floors. It was extremely challenging to satisfy all the wishes expressed by the architects and hotel owner but, by the careful selection of brands that met the requirements of aesthetic elegance with the highest standards of audio performance, we achieved a design that met the requirements for this most fashionable and sophisticated hotel in Croatia."