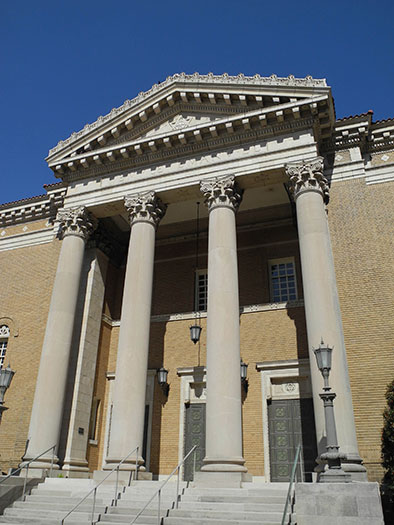 Twist Technology has fitted a pair of Renkus-Heinz ICONYX IC16-RNs in Birmingham's oldest Synagogue.
Founded in 1882, Temple Emanu-El's current home, dedicated in 1914, underwent a $17 million renovation in 2002. The building is a true architectural beauty, with a domed ceiling, rich woodwork, and flawless cream-coloured walls. Two alcoves, each with a balcony, flank the stage, with a third balcony in the rear.
For generations of congregants and clergy, that same exquisite architecture has been a source of frustration, creating an ocean of echoes that drowned intelligibility. The sanctuary's old pew-back sound system was never quite up to the task, with a narrow frequency response, insufficient power, and poor articulation.
To provide a sound system worthy of this historic space, the congregation contacted Birmingham technology integrators Twist Technology.
"Temple Emanu-El's sanctuary is an extremely challenging acoustic environment, with a lot of hard surfaces, as well as a dome," observed Twist Technology engineer John Kendall, who designed, installed, and tuned the new system. "Renkus-Heinz ICONYX systems are excellent for music reproduction, and the congregation has a cantor who sings very beautifully. The sanctuary also has a piano. But the most crucial issue was speech intelligibility. The clarity of ICONYX, combined with their precision beam steering, made them the perfect choice for this install."
Part of the new ICONYX Gen5 series, the latest in the evolution of beam-steering technology, the IC16-RN is a powered, coaxial system that employs 16 4-inch, low-frequency transducers, each with 3 tweeters. Up to eight steerable beams can be individually shaped and aimed from a single IC16-RN column using powerful, software-controlled DSP.
"We'd originally planned to fire the arrays straight ahead," John recalled, "but we had to mount them fairly high up on the walls, and with that placement, we would have had trouble covering the front rows. Fortunately, with ICONYX we could precisely aim the beams, so we were able to crossfire the arrays to cover the front rows without creating other issues. We also steered a beam to cover the rear balcony."
As always, what matters most are the results. "The congregation is extremely happy with the Renkus-Heinz ICONYX Gen5 system," John said. "It sounds great, it's visually unobtrusive, and you can hear everything clearly throughout the sanctuary. Temple Emanu-El finally has a state-of-the-art system worthy of its sanctuary!"