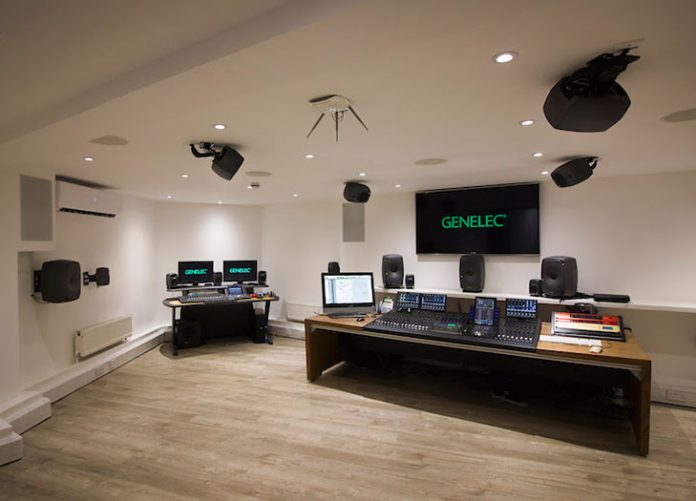 Pro-audio equipment supplier HHB Group and Genelec have launched the world's first Genelec Experience Centre. The centre enables visitors to audition a dazzling array of Genelec active monitors for music, post, broadcast and install applications.
The facility is located in the new offices of Scrub (HHB's post-production reseller division, situated in the Fitzrovia area of London's West End) allowing visitors to choose source material of virtually any format and evaluate Genelec monitors in stereo, surround and immersive audio configurations.
The centre's audio architecture grants visitors the ability to route any source to any destination – allowing them to audition anything from a stereo pair of compact 8010A monitors to a full-blown 11.1 immersive audio system. Partnered with Avid Pro Tools | S6 control surface presented in AKA Design bespoke studio furniture, combining seven 8351A SAM studio monitors in left, centre, right, left side, right side, left back and right back positions, four 8330A SAM studio monitors overhead and two 7370A SAM studio subwoofers handling the low end.
Complementing the centre's Pro Tools | S3 control surface is a 5.1 configuration of five 8320A SAM studio monitors and one 7350A SAM studio subwoofer providing outstanding monitoring accuracy and flexibility in a smaller footprint, while the 8010A studio monitors and two 8430A audio-over-IP SAM studio monitors demonstrate both analogue and digital compact loudspeaker formats.
A second 5.1 system showcases Genelec's architectural installation products and includes five AIC25 active in-ceiling speakers and one 5041A active in-wall subwoofer, while two AIW26B active in-wall speakers can be run in stereo mode or in 2.1 mode in conjunction with the 5041A.
Finally, four 4030B installation speakers are positioned in the Scrub sales office to demonstrate small to mid-sized commercial installation.
Jani Jalonen, Genelec Marketing Director commented: "Outside of our own factory in Finland this is without doubt the most comprehensive Genelec demonstration facility in the world, and we're thrilled to be able to invite customers to London to experience everything that Genelec loudspeaker technology can offer. If you want to hear our products in action and discuss any aspect of speaker selection, placement and calibration, then this is the place to visit."
www.genelec.com