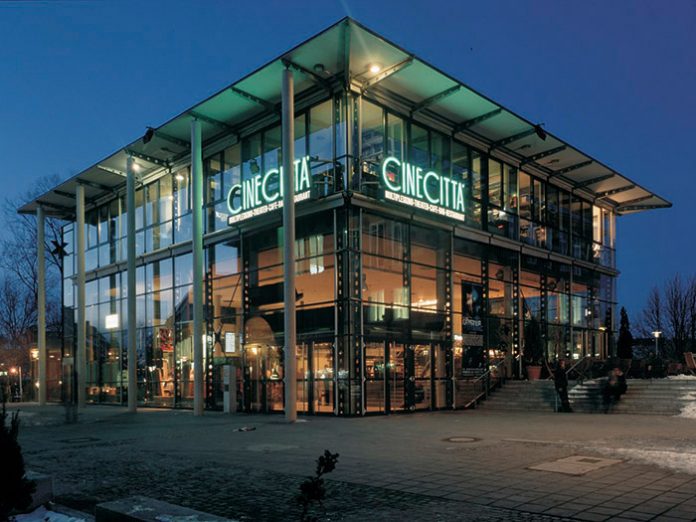 Germany's largest multiplex cinema, in Nuremberg, has got the most powerful Christie Vive audio installation in the world, in time for the global opening of Star Wars: The Force Awakens on 17 December. And it's a fittingly futuristic setting and installation for one of the most awaited films of the year.
Cinemagnun, the former IMAX theatre, which houses Germany's largest screen at 600sq metre, plus a giant 30-tonne sliding dome screen, now has Christie Vive-Audio with Dolby Atmos. The domed auditorium is one of 22 auditoria screens, most of which are dug deep beneath the streets of old town. Planning, supply and installation was carried out by Christie partner ECCO Cine Supply and Services GmbH from Hilden near Dusseldorf.
The impressive Vive audio installation utilises the complete Christie LA5 speaker series for stage, surround and overhead speakers (LA5, LA5S, LA5C). Chris Connett, Market Development Manager for Christie Vive Audio in EMEA, explained: "Our six-inch ribbon driver technology, used in all of our LA5 series speakers, guarantees optimal coverage throughout the auditoria with perfect sound reproduction in each of the 524 seats."
"Due to the size and volume of this auditorium, we had to overcome a number of design challenges," Chris continued. "One was that the domed ceiling had to maintain its ability to move position while also ensuring the sound from our line arrays still gave excellent coverage to every seat. To get this right was a challenging experience, even after 16 years in cinema audio. Cinecittà had been looking for a solution for this unique theatre for quite some time. I am confident Vive Audio delivers in what has to be the most impressive Cinema in Europe."
The Cinecittà complex, is not just known for its impressive underground architecture but for introducing new technologies. For example it was the first cinema in Germany which was completely THX-certified. And, regarding D-cinema, Nuremberg was also at the forefront: exactly ten years ago, the first digital cinema screenings were shown at Cinecittà for another Star Wars premiere, Revenge of the Sith.
With the 'Star Wars: The Force Awakens', Wolfram Weber, owner and Manager of the Cinecittà, has again employed the latest technology in order to offer an unrivalled cinematic experience: "We always try to offer our visitors something special. This means for us to show premium content on the highest technical level. Cinema has to reinvent itself again and again to stay in the race today in completion to the numerous entertainment offers out there. With Vive Audio in combination with Dolby Atmos the audience experiences the film in a way, you can't experience at home – that's only possible in cinema" concluded Wolfram.
Thomas Rüttgers, Managing Director of ECCO Cine Supply and Services, added: "We are very pleased to be a partner within this reference project. Christie's Vive system emphasises the atmosphere of this unique theatre hall and revaluates the cinematic experience for each individual visitor again and again. "
"Christie Vive Audio was designed to bring cinema audio quality in line with the advances we have seen in visual technology," said Christie's, Chris Connett. "We've seen many cinemas across EMEA and globally gear up for Star Wars and look forward to our 350 Vive Audio system by the opening of Star Wars Episode VII: The Force Awakens on 17 December, 2015.