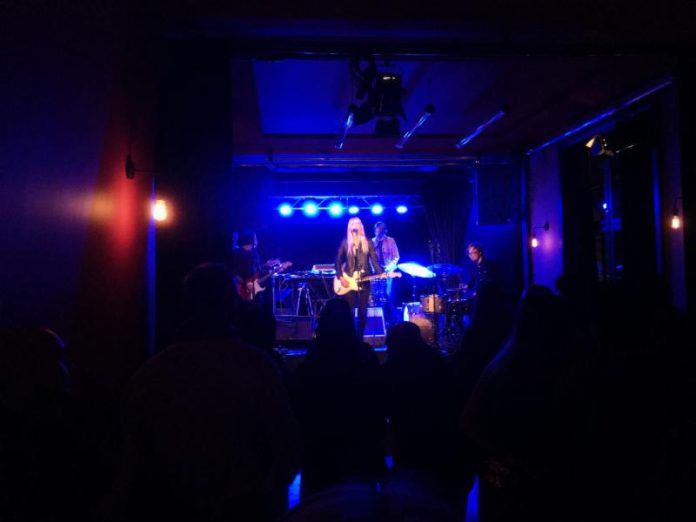 The historic Soria Moria building complex, Oslo, Norway, has since served as a cultural hub for cinema, music, theatre and literature. In 2014, co-owners, Karl-Henning Svendsen and Olaf Masterman Loly took over and refurbished what would become HVASKJER Torshov, the restaurant/music venue inside Soria Moria. Loudspeakers from VUE Audiotechnik became an integral part of the renovation.
HVASKJER Torshov combined a restaurant with a wood-fired grill; beer, wine and cocktail bars; a dancing area; two concert venues; and an arcade/gaming room. Drawing on his previous experience with other venues in Oslo, Olaf called upon avon lydinstallasjon to handle the installation. "We chose avon as our integrator of sound and lighting systems because they have delivered good, reliable systems in some of our other venues here in Oslo," said Olaf. "We have a good common understanding of doing business, plus avon has good references in other venues throughout Oslo and Trondheim, which is important to us."
HVASKJER features two music venues: one on the ground floor and one on the first floor. The initial installation addressed the ground-floor venue and the restaurant. The second phase brought new gear into the refurbished music venue on the first floor. All rooms feature sound systems composed exclusively of VUE Audiotechnik loudspeakers.
"This is a 100 percent VUE Audiotechnik install," said Edgar Andraa Lien, Founder and Systems Engineer, avon. "All speakers are from VUE's i- and a-Class, driven by Lab.gruppen amps and controlled via a Peavey DigiTool matrix mixer. This was a brand-new install so we were able to choose the right speakers for each application. Sometimes you are forced to add speakers to an existing install but, in this case, our client wanted the best solution and trusted us in picking the right tools for the job.
"The main PA installed in the ground floor showroom features a VUE as-418 isobaric quad 18-inch subwoofer system and two VUE a-15 high output full range systems driven with a Lab.gruppen PLM10000Q amplifier. The as-418's dual-isobaric configuration produces an extended low-frequency response down to 30Hz, with an impressive maximum long-term output of 134dB SPL. The a-15 cabinets are flown on either side of the stage, providing a coverage pattern of 70×55 degrees via rotatable horn. Stage monitors for this system are six VUE a-10 compact full range cabinets powered with three Lab.gruppen IPD Series amplifiers.
The adjacent restaurant/lounge/shuffleboard rooms at HVASKJER were treated to a background music PA consisting of 14 i-8 foreground loudspeaker systems, four i-2×4.5 dual 4.5-inch surface mount foreground systems and five VUE is-26 compact surface mount subwoofer systems. Since these cabinets can all be flown using integrated hang points, the avon crew was able to create a discreet, low profile sound design with smooth coverage throughout the room. Brackets for flying the subs had to be custom made in Oslo.
The team at avon raised the sound quality at HVASKJER up a notch by calling in Acoustic Consultant Bjørn Boge to design bass trap, ceiling and wall treatments for the venue. "As a designer of the acoustics in a club, what I aim for is a transparent and solid soundscape regardless of your position in the venue, both for the audience and for the performers on stage," revealed Bjørn. "Working with avon on this project has been a breeze. The VUE system sounds loud and clear, and has this HiFi vibe. The vocals sound very good, and there is awesome headroom."
The rebuild of the first-floor venue was completed in the Fall of 2015, making HVASKJER the biggest cultural facility in Torshov. The main PA on the first floor is identical to that of the ground floor system. Due to the long, narrow profile of the room, and the fact that this is a standing room venue, the main speakers were augmented with delay speakers. Two VUE a-8 Compact Full Range Systems are flown above and just behind the FOH mix position on either side of the room. A pair of VUE i-6a Foreground Loudspeaker Systems serve as a delayed fill for the bar area, each incorporating a 50W power amplifier for easy integration into the system. "We spent a lot of time making sure all speakers and zones were in-phase and time-aligned. After the first stand-up comedy show, we actually felt that the dead-end acoustical environment in front of the bar at the far end of the venue needed a lift, so we added the two i-6a speakers on a separate volume control in the bar for self-service adjustment by the bartenders. This is kind of a luxury problem – to need more speakers in a venue due to heavy acoustical damping."
HVASKJER's Sound Engineer and Technical Manager, Bendik Næsje, couldn't be more pleased with the results. "This past year it was a pleasure working with avon to deliver a state-of-the-art VUE Audiotechnik sound installation in HVASKJER. VUE loudspeakers crush their competition in terms of sound quality and avon made everything simple to operate. The matrix distribution unit is easily controlled from volume panels strategically placed around the venue. It's even easy for a bartender or waitress to set the volume of background music during the day and to crank it up when the DJ kicks off at night.avon and VUE Audio have made my job a lot more comfortable, bringing me solutions that are almost maintenance-free and extremely intuitive."