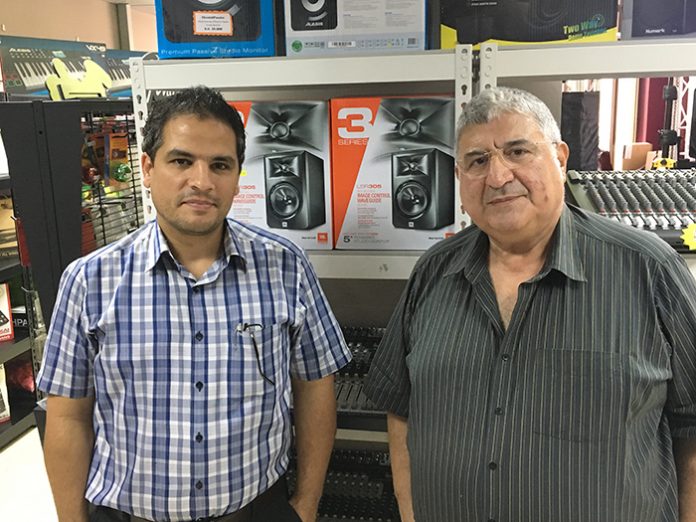 Abboud Aljuneidi, Entertainment Division Manager – ME, GSL Professional, recently travelled to Muscat, Oman to follow through with the expansion plans in the recently won territories for GSL Professional.
While in Oman he met with most of the resellers there, who, he feels need to be familiarised with Harman Professional and TASCAM TEAC products. The most conducive meeting was with the owner of Tunes Trading & Services- Mr. Zak Pachiyannakisz.
Abboud Aljuneidi and Zak Pachiyannakisz at Tunes in Muscat, Oman, "Tunes has been one of our most committed resellers in terms of stocking and displaying our flagship brands such as JBL Professional AKG, and Crown in their four showrooms," said Abboud. "They stock JBL Vertec; SRX; MRX and PRX series loudspeakers and Crown amplifiers in their inventory for the rental division of the company. They also intend on using our brands in the fifth showroom, which is slated to be inaugurated shortly."
"They display Harman and Tascam products in their showrooms which is great for our brand visibility and our end users. Tunes is the largest retailer in Oman."
In order to consolidate our relationship and to show solidarity, Abboud conducted an impromptu training session for the entire staff of the franchise.
"The staff were curious and very interested," said Abboud. "I skimmed through the fundamentals of sound and the technology which Harman Professional offers; a brief on installation related products and covered most of the entertainment products and also the Tascam catalogue."
"The crew was very enthusiastic and it will be great to return every few months to go over the other elements of the Harman catalogue," he added.
The company has trainings scheduled over the next few months and we intend to conduct specialised sessions for their staff, as part of the brand promise of support.