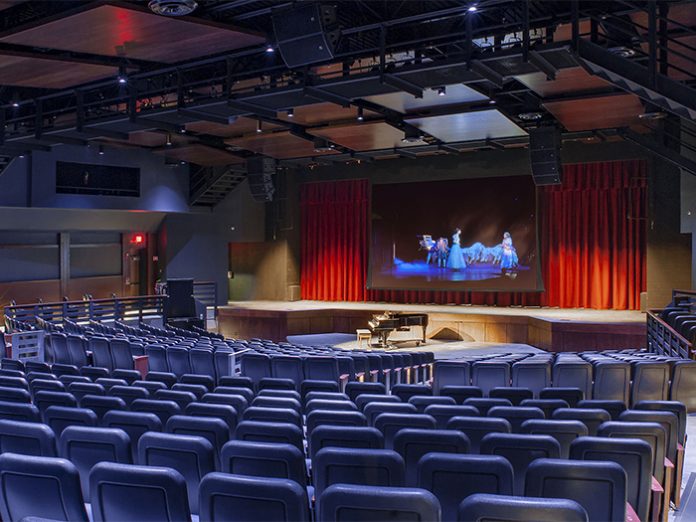 Goshen High School underwent a renovation which saw its 650-seat theater/auditorium refreshed from the floor up with an L-Acoustics ARCS Wide and Focus sound system, supplied by Firehouse Productions and integrated by LiveWire Sound and Image, with the renovation done by project architect LAN Associates and acoustical consulting by WSDG.
The school's ARCS WiFo system—consisting of three ARCS WiFo units plus an SB18 subwoofer per side in a left-right system, along with two delay points with two ARCS WiFo units each, all powered by three LA4X amplified controllers—has taken the school's main venue, used for theatrical productions, town-hall meetings, talent shows and a range of other scholastic and community purposes, to an entirely new level.
The new sound system in the theater brought together a great sound system with a forward-looking school that was seeking the finest audio technology for its updated venue. But it also brought together two people who have a long history with Goshen High School. Joe Fedor has been the technology teacher at Goshen High for over two decades, a "New Age shop teacher," as he wittily describes his role in guiding students through the constantly evolving STEAM—science, technology, engineering, arts and mathematics—curricula critical in high school today.
For the decision and installation of the ARCS WiFo system, he worked with Nick Bechard, project manager at Firehouse Productions, but also a student of Fedor's 15 years ago. "We often have our graduates return to give back to the school, and this was a great example of that," says Fedor.
He trusted Bechard when the integrator told him that the L-Acoustics system was the best choice, despite a slightly higher cost than a system previously under consideration there. "Costs are important in education," he acknowledges, "but so is quality and the fact that we want a system that will not only physically last for years to come but also be state-of-the-art for that time, as well. L-Acoustics meets those requirements."