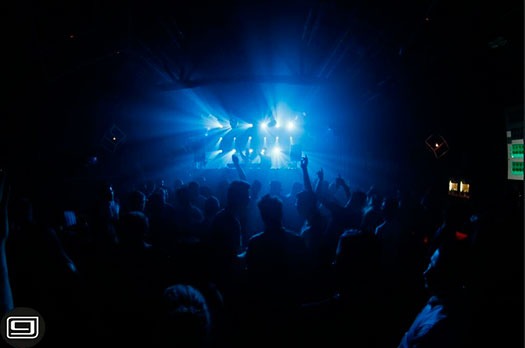 Committed to staying on the leading edge of music and lifestyle trends, Globull nightclub is constantly working to create and maintain a sharp, sleek atmosphere inside the three storey dance club. Toward this end, the club's management recently decided to install  a group of Chauvet fixtures to ensure an infinite variety of looks in the club's mainfloor lounge/performance area.
To complete the installation, Bulle based install company, Sonart, installed a selection of Chauvet Professional Rogue RH1 Hybrids, along with Intimidator Scan LED 300 moving fixtures from Chauvet DJ to cover the stage and dancefloor with an ever-changing array of dynamic looks. 
Rogue units are flown on truss over the DJ booth. Drawing on the intense output of the Rogue fixtures, along with their split colours, the club is able to flood the entire room in vivid hues to reflect different moods and engage visitors. Globull's light techs also rely on the layer prism and gobo capabilities to transform the room with richly textured looks. 
Complimenting the eye candy of the Rouges is the sharp, slicing lightning fast movements of the Intimidator fixtures. A total of 18 Intimidator Scan LED 300's were positioned on three levels of truss over the club's central stage. By scanning the stage, the audience and the room at large with intense colours and powerful concentrated beams of light, the Intimidator fixtures add an atmospheric depth to the club. The sheer speed of the mirrored scanner is also relied upon to create a stunning array of high-octane flashes of light to accompany the incendiary DJ and artist sets.
Thanks to the interplay between the Chauvet fixtures, which were specifically chosen for their individual qualities by Sonart, Globull has been able to achieve the looks one would normally expect from a much more expensive install. Most importantly, it appears that the residents of the idyllic town of Bulle might have another reason to stay up a bit longer.