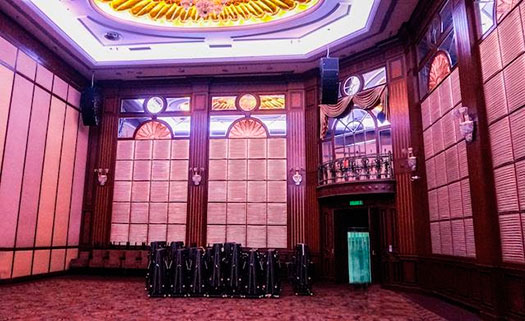 Located about 14.5 km southwest of the Malaysian capital of Kuala Lumpur, the luxurious Sunway Resort Hotel and Spa is part of a huge complex along the beautiful Sunway Lagoon. Recently the hotel upgraded to a Renkus-Heinz sound system for its Grand Lagoon Ballroom, which accommodates up to 2,000 guests for events such as gala dinners, weddings, and spectacular product launches.
The ballroom can be divided into three separate halls; the middle of these includes an extendable stage. The new sound system needed to serve each of the three sub-ballrooms individually and still deliver first-class sound when the rooms were united. For system designer and distributor Mercoms Systems, the clear answer was Renkus-Heinz CFX-series loudspeakers.
"The ceiling is at least 7-metres," began Keith Tan, of Mercoms Systems. "The walls are mostly made of wood frames with some soft cloth-wrapped padding in the middle and glass mirrors at the top, and the floor is carpeted. So although the ballroom has some glass surfaces, it also has absorptive surfaces, and there are no pillars. But the depth of the ballroom was a challenge. It was vital to be able to throw clear sound all the way to the rear while achieving relatively even coverage. That made the CFX series an obvious choice."
Tan flew a L-R pair of arrays, each with four CFX-101LA modular point-source arrays and two CFX15S subwoofers. CFX101LA cabinets can be arrayed to provide a 90×60° coverage pattern, delivering up to 9 dB more output and tighter vertical pattern control than a conventional single cabinet. It delivers the performance and pattern control of a line array with the clarity of a point-source system. Choosing the CFX-101LA enabled Tan to cover the room with a third to half the number of cabinets required with traditional line arrays.
The CFX15S is a passive subwoofer with a powerful 15-inch driver that delivers outstanding sub-bass performance from 40Hz to 100Hz and delivers up to 128dB peak SPL. Two of them were easily more than enough to fill Ballroom two with rich, clear low end.
When partitioned, each of the two smaller, adjacent ballrooms are served by left and right arrays consisting of four CFX-101LA full-range systems and one CFX-15S. All of the speakers are flown from the ceiling. A Biamp Tesira server provides speaker management, including crossover settings and EQ, and combines the systems when the partitions are open.
"The Grand Ballroom hosts a wide variety of functions, and it is a prestigious venue, so the flexibility and quality of the audio system are crucial," explained Keith. "With CFX-101LAs and CFX-15S's in all three sub-ballrooms, the system sounds consistently great with the partitions in place and when opened up into a single space. It perfectly complements the layout of the ballroom. System installer Mega, Teknik Jaya, did an excellent job, and the Sunway Resort team is delighted with their new Renkus-Heinz system. Now their Grand Lagoon Ballroom truly has a state-of-the-art system that's worthy of it."