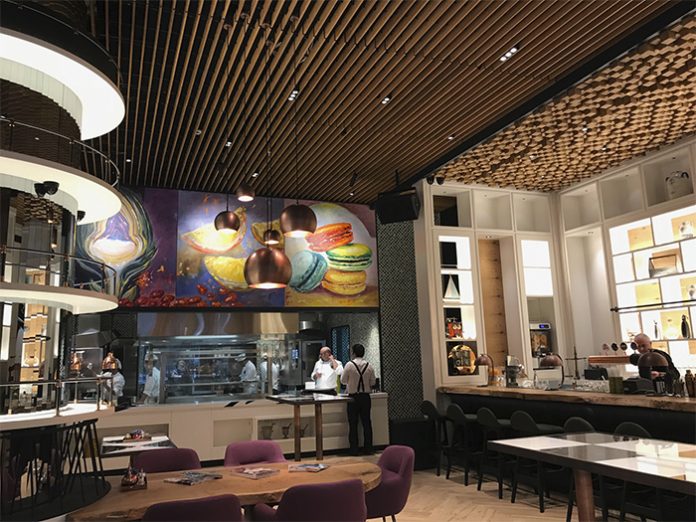 The restaurant brand opens a second venue in the north of Istanbul, complete with a Funktion-One sound system.
When owner Ahmet Uras set about designing the new Galliard Brasserie, he sought out a sound system with a high standard of artistic and technical excellence.
After hearing a Funktion-One system, Ahmet contacted the installer responsible – Mek1Sound – to bring the same audio quality to the new Brasserie. Headed by renowned DJ/producer Murat Uncuoglu and audio installation veteran Ertugrul Karasati, Mek1Sound has raised the standard of sound system installation in Turkey.
Ahmet explained: "We always prefer to work with Mek1Sound due to their friendly attitude and enhanced proficiency in sound system solutions. We believe that Mek1Sound is our true solution partner and they have our trust for all the systems they recommend to us."
To achieve the optimum coverage, two triangular brackets reaching down through the wood-slat ceiling each provide a mounting point for two Funktion-One F101s and an F81. Two more F81s are positioned on either side of a large screen – used to show sporting events – at one end of the restaurant.   
F1201s are wall mounted at opposite corners of the restaurant – one by the kitchen hatch and one above the DJ booth. Lower frequencies are provided by four Funktion-One BR115 enclosures and two MB112 compact bass enclosures. A further four MB112s are used in the semi-covered outside terrace area to complement the rows of smaller, beam-mounted speakers used there. Three Funktion-One MC2 Delta 80s deliver the required amplification.
As the evening proceeds and the focus shifts from dining to dancing, the DJ mix is brought to the fore, but without obliterating the after-dinner conversation. "The purity of sound created by the Funktion-One system means the whole room can be filled with music, without ever becoming uncomfortable," noted Ertugrul Karasati.
Ahmet added: "We always prefer to install Funktion-One solutions in our venues – their product range means there is the right solution for all different types of venues. First, we did The Galliard Etiler with the compact Funktion-One loudspeakers and the quality of the sound was amazing for a mid-sized restaurant/bar."
Such is the success of the new installation, that Ahmet has commissioned a Funktion-One system for a third venue, The Galliard Dubai, which is due to open at the end of June. Regional Funktion-One specialists, Em-Tech, will carry out the installation, with Ertugrul Karasati joining the project in a consulting role at the request of the owner.