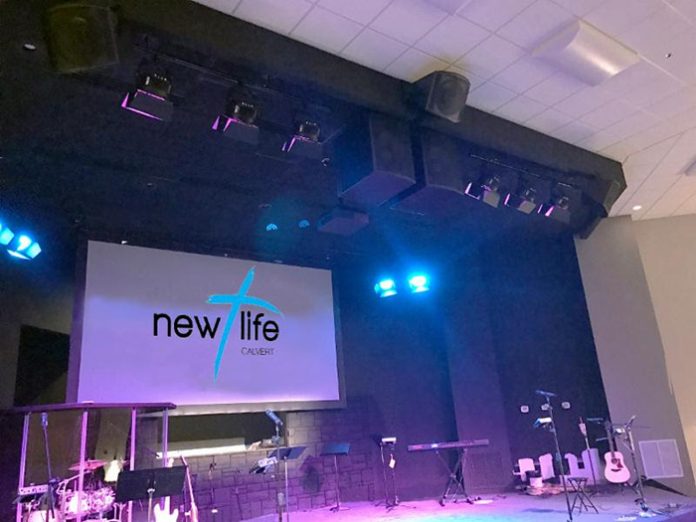 From its humble 1999 beginnings with a double-digit congregation, New Life Church has grown into multiple churches and video venue campuses with over 5,000 regular attendees throughout the D.C. Metro area. New Life Church entrusted leading Midwest integrator Audio Video Electronics (AVE) to design and install a state-of-the-art sound, video and lighting system for their latest campus, New Life Calvert in Prince Frederick, Maryland.
Challenges
Rear low frequency cancellation was needed to keep sound energy off the stage and back wall.
The new sound system needed to be easy to operate, and provide even coverage and high fidelity for music reproduction and voice intelligibility.
Solution
"As shallow trussing didn't leave room for under-stage subwoofers, we knew they'd have to be flown to get the coverage we needed," recounted AVE design engineer Max Clixby. "Space was also a challenge overhead with only 12 feet of stage depth to install mains, subs, a laser projector and screen. We needed a cardioid pattern to keep sound energy off the stage, back wall and video gear, but lacked the space and budget for an active cardioid array."
Painted into an acoustical corner, Max saw Fulcrum Acoustic Cardioid Subwoofers with patent-pending Passive Cardioid Technology as the only solution capable of creating a cardioid effect in half the footprint of an active cardioid array. Max's design includes two Fulcrum CS121 21-inch subcardioid subwoofers flown behind compact 15-inch CX Series coaxial loudspeakers; a CX1595 (90° x 45°) on centre flanked by left/right CX1565s (60° x 45°).
"We've been very intentional about reducing sound on stage and focusing on how our contemporary services sound to our congregation," explained New Life Church special projects coordinator Ronny Settle. "We've gone to 'silent stages' using in-ear monitors where everything you hear comes out of the house speakers. It's amazing how Fulcrum's Cardioid Subwoofers provide incredible bass while keeping sound energy off the stage where it would interfere with live mics. We are blown away by Fulcrum's quality of sound. New Life Calvert has set a new sound standard for all our church campuses."
About Fulcrum Acoustic
Founded in 2008, Fulcrum Acoustic is a professional loudspeaker manufacturer known for its unique approach to loudspeaker design. Employing the research of company co-founder David Gunness, Fulcrum Acoustic combines proprietary coaxial design and Temporal Equalisation™ processing power to create the most powerful and versatile line of loudspeakers available.
For more information please visit www.fulcrum-acoustic.com.