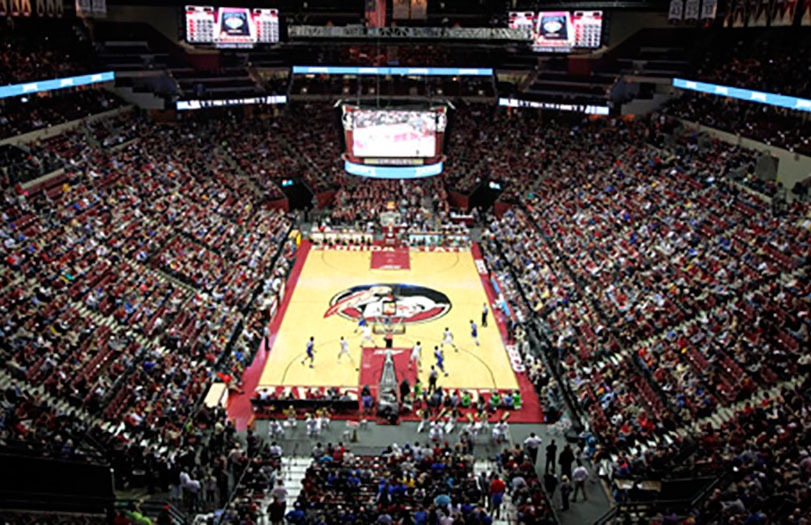 Florida State University in Tallahassee has recently installed one of the largest Meyer Sound Leopard linear sound reinforcement systems to date in its 12,500-seat Donald L. Tucker Civic Centre. Known to locals as "The Tuck," the multipurpose arena serves as the home court for the FSU Seminoles men's and women's basketball teams, and also hosts a yearlong schedule of other sports, convocations, concerts, special events, and graduation ceremonies.
"Overall, there's been a tremendous improvement in intelligibility," said Bruce Jones, FSU's sound engineer for the venue. "Leopard handles speech and music far better than the old system, by leaps and bounds. I've heard nothing but compliments from announcers, coaches, and officials at the scoring table. After the last commencement, I was told the sound was the best it's ever been."
FSU officials found a solution to the poor performance of the outdated arena loudspeakers with the self-powered Leopard system. "The original proposal was for a conventionally powered loudspeaker system with multiple racks of power amplifiers," said system designer Brian Smith of Pro Sound & Video, which handed system integration. "But I was impressed with the uniformity of coverage and sonic detail that Leopard delivered in this arena environment. After looking at all cost impacts that go along with it, we realised Leopard would offer superior performance and a more straightforward approach to integration than a conventionally powered system. In the end, the cost came in below our prior conventional system bid."
In addition to speech reinforcement, Leopard is also used for music reproduction in applications ranging from high-impact break music at games to a brass ensemble at graduation. "A five-piece rap group performed for a special event at the opening of basketball season, and they spread out across the floor with wireless mics," said Bruce, a former touring FOH engineer for artists such as Counting Crows, Joe Cocker, and Santana. "The rappers could hear themselves fine with no feedback problems, and the audience obviously enjoyed it."
The system is deployed in six arrays of eight Leopard line array loudspeakers each, supplemented by four 1100-LFC low-frequency control elements. Two UPM-1XP loudspeakers each cover the four corner sections, and two UPQ-1P loudspeakers provide court coverage. A Galileo Callisto loudspeaker management system with three Galileo Callisto 616 processors handles system drive and alignment.
The arena upgrade also included a new Midas M32 digital mixing console.