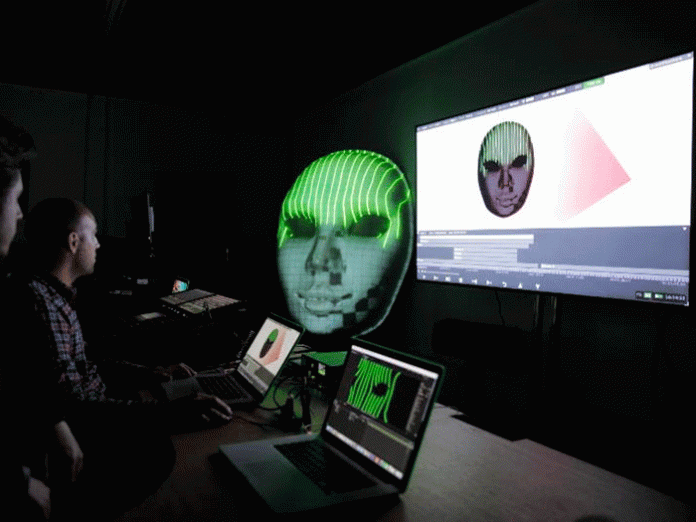 Event technologist, FIX8Group have been busy developing FIX8Studio: a fully supported visualisation and training space at the company's Stockport headquarters, which gives visiting production companies, studios and creatives direct access to the latest digital content control and interactive resources.
Although the studio has been used internally by the group for some time – it came into full existence as a rentable space late last year – in response to increased demand from theatre, corporate, music, TV studios and arena shows which have complicated and large scale digital content requirements.
Production Director John Montague commented: "We offer advice, modelling, digital content management and animation creation that exists on the cutting edge of this new world, but also one which can draw on the global experience of FIX8Group as a whole.'FIX8Studio works with the latest server and control technologies, with developer knowledge of Hippotizer / Shape, the latest d3 releases and Watchout v6. In addition, the Studio also has fantastic knowledge of Ventuz, Midi Protocols, Cin4D and 3DMax rendering along with the usual 2D and 3D packages,' adds Montague, 'ensuring that each of them will be used to the maximum effect on any show."
One of the studio's strongest offerings is the linking of 3D ideas and visuals into a 3D visualised workflow, then to content rendering. This can happen through the most simplified route when required, or in the studio with full 4k screens for the most precise visualisations.
The studio specialises in offering its clients a collaborative approach and environment, consulting on different areas of the production as required.
'We see a lot of technology on shows, and sometimes it seems like it's there for the sake of it. Our deep knowledge of interactivity, combined with creative animation skills, allows us to make the absolute best use of the right digital response to a brief or question.
FIX8Group's work has been as varied as supplying programming and server systems to concert tours by Girls Aloud and Nine Inch Nails; corporate production for a global pharmaceutical company; 3D and interactive development for a leading petrochemical research company; cross and pan-European building projection work; interactive BtoC installations for experiential companies and video programming on the Eurovision song contest this year. The FIX8Studio gives customers direct access to the same skills which made these projects possible.
Since the studio opened it has proved incredibly popular and sights are being set at the development and growth of interactive activations – both in how to bring the clarity and sharpness of design which FIX8Group is known for into the digital content and in the end physical activation. It can be a minefield for designers and production alike, so FIX8Studio will help guide and advise through this minefield to get to the sharpest and cleanest production around.