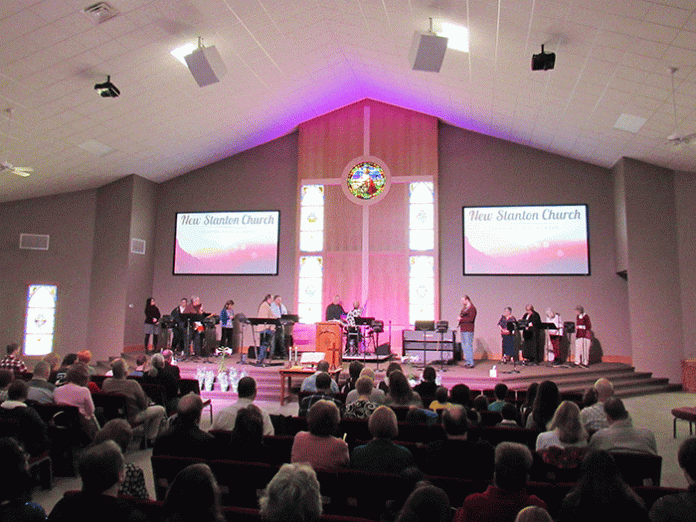 At New Stanton United Methodist Church, worshippers can expect to find engaging messages based on the Bible, worship that is full of energy, and helpful people to assist all who enter this House of Worship. With a variety of ministries designed to 'speak' to worshippers of all ages, quality sound plays a vital role in the church's offerings. To ensure that all members of the congregation would be able to hear clearly in their brand new sanctuary and gain the full value of the church's teachings, New Stanton United Methodist Church recently invested in a sound reinforcement (SR) system drawn from the catalog of Greensboro, NC-based WorxAudio Technologies; a division of PreSonus Audio Electronics.
Good Sounds of New Stanton, PA, an AV integration firm – specialising in designing and installing sound, video, and lighting systems for commercial spaces, schools, and houses of worship – was contracted to design and deploy the new SR system at New Stanton United Methodist Church.
After consulting with church management to ascertain their expectations, Good Sounds' Owner Dwight Brown, who is CTS certified and serves as the company's principal system designer, specified two WorxAudio TrueLine series X3i-P/D powered, Dante-enabled, line array systems. He discussed the project and his decision to utilise WorxAudio equipment.
Dwight commented the following: "Services at New Stanton United Methodist Church are of a more contemporary nature and are very much musically driven. The church has a 14-plus member Praise and Worship Team that includes keys, guitars, bass, drums and many vocalists. Media presentation equipment adds to the upbeat nature of services and there is also theatrical stage lighting. With that said, it was crucial that speech intelligibility be excellent and that the system was to be musical in terms of its reproduction capabilities."
Dwight also added that the sanctuary is 100 feet wide and 70 feet deep with a seating capacity of 468 people. The ceiling height is 28 feet and the stage faces into the width of the room. Seating is moveable. This arrangement necessitated a sound system with wide horizontal dispersion to ensure even coverage throughout the space—and this is one key attribute of the WorxAudio TrueLine X3 line arrays that made the system a great choice for this project.
In terms of deployment, Brown and the Good Sounds crew flew one WorxAudio X3i-P/D line array enclosure each over the left and right sides of the stage area using WorxAudio's TrueRig beam clamps and X-minibeam-3 rigging hardware. These enclosures reside approximately 10 feet on either side of center and are suspended at a height of 22 feet—positioned even with the front edge of the stage. Each X3i-P/D enclosure incorporates three medium format 1-inch exit compression drivers coupled to a stabilized proprietary FlatWave Former that delivers clear, penetrating high frequencies over a predictable and controlled coverage area. Six 8-inch cone transducers coupled to the Acoustic Integrating Module (A.I.M.) minimize comb filtering throughout the entire operating range. Power is supplied via the WorxAudio PDA series amplifier modules, which offer integrated DSP and SL Room Control software in addition to Dante audio networking capability.
When queried about those attributes that made the WorxAudio X3i-P/D line array the ideal choice for New Stanton United Methodist Church, Brown offered the following thoughts: "Based on the 160-degree horizontal dispersion of the X3, these were the perfect choice for the size and layout of this new space. The TrueRig beam clamps and X-minibeam-3 rigging hardware made this the easiest installation I've ever performed with flying speakers. And of course, the clarity these boxes produce is unlike anything I have ever experienced. Speech intelligibility is always a necessity in a system like this and the X3 definitely delivers."
The Good Sounds team began work on this project in January 2016 and the WorxAudio line arrays were installed early in February. The first service took place March 20th. With the system now operational, reports came in that everyone at the church has been very impressed. Dwight stated that in terms of a design-build project – it has been the most satisfying experience he has ever worked on. WorxAudio's support helped ensure the system delivered the best possible performance and everyone—from church management to members of the praise team, to those seated in the congregation—have been very complimentary and impressed with the sound.
https://www.worxaudio.com