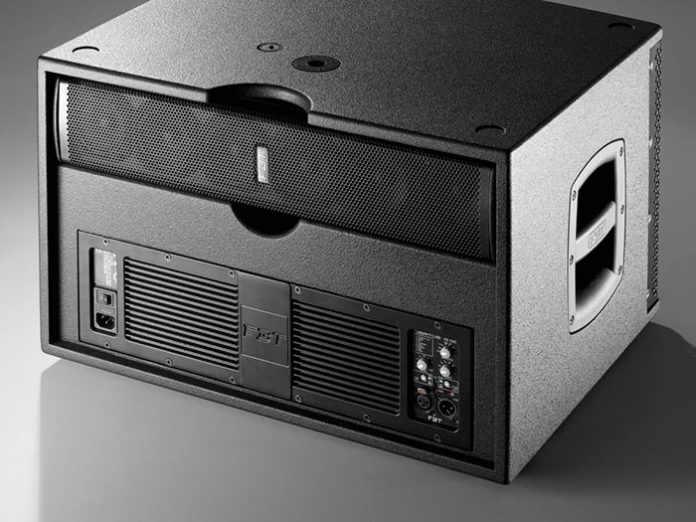 FBT UK is promising a full display of its wide range of audio products at this year's BPM PRO show, including demonstrations of its renowned MUSE and MITUS line array systems in the Pro Audio demo space. New to the UK market and on the main FBT stand will be FBT's VERTUS CS1000 compact line array system.
VERTUS is designed to offer a no-compromise choice for live performers and installers and epitomises FBT's hallmark ergonomic design flair and superb sound quality. The VERTUS CS 1000 can be deployed on stage within minutes, making it ideal for performers, or taking advantage of its discrete good looks, can be integrated into the most sophisticated locations.
Also on show will be FBT's VENTIS range of passive and active speakers – the VENTIS 115a, 112a, 110a and 206a.
Using a powerful combination of B&C compression drivers and FBT's own custom, long excursion woofers, the 115a, 112a and 110a models are two-way, bass reflex designs housed in 15mm birch plywood enclosures. A full grille design backed by specially treated acoustic cloth delivers the characteristic FBT style, while fully rotatable constant directivity horns ensure accurate coverage.
More newcomers to the FBT range will include the ProMaxX range, which represents FBT's latest refinements to a long established leader in polypropylene housed enclosures.
Equipped with custom FBT speakers complete with B&C's renowned compression driver technology, at the heart of the ProMaxX series is a purpose-built FBT amplifier module with a switch-mode power supply. For the low frequency section, 700W RMS is driven via a highly efficient Class-D topology, boasting extremely low THD. For HF, 200W RMS is delivered by a Class-H/AB design chosen to ensure the highest definition of audio performance at high frequencies. Models available will include the ProMaxX 114A, 112A and 110A.
Yet another new product will be FBT's Q118SA, an extremely powerful subwoofer, capable of delivering very high SPLs and significant low frequency extension. The optimisation of the woofer load volume and port tube with BEM finite element simulation, and the careful development of the grille and the protective fabric to minimise acoustic impedance, has led to a net improvement in performances as compared with previous models. Equipped with an high excursion ceramic B&C woofer with 100mm ventilated coil, it has negligible power compression, ensuring maximum acoustic pressure even after hours of continuous use.
The onboard 1200Wrms class D amplifier with switching power is equipped with a digital signal processor with entirely new algorithms. Also on display at this year's show will be a selection of FBT's other products, in addition to the MUSE and MITUS line arrays in the Pro Audio demo room.
Brand new from JTS, and making its UK debut, will be the newly released TC-22 replacement mic capsule for JTS. Shure and Sennheiser wireless systems. The TC-22 offers an extremely wide dynamic range and very low touch noise, making it suitable for stage applications where the highest quality reproduction is required. Delivering a condenser microphone's characteristic crystal clear mid and high response, it is a notable improvement over dynamic equivalents.
Also on show for the first time will be the JTS R-4 UHF 4 channel diversity system. To cope with the squeezed radio spectrum the system provides more compatible channels within the limited bandwidth. The R-4 is a 4 channel system in a 19" one U case.
A full range of JTS products will be available for demonstration.