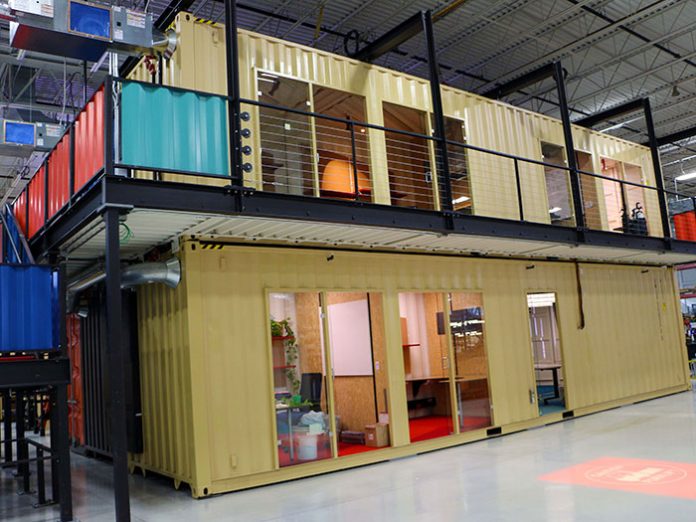 Since its inception 40 years ago, ETC has come a long way. Now a global leader in the manufacturing of lighting and rigging technology, ETC employs over 1000 people, across 10 countries, in facilities totalling more than 10 football pitches in size. In recent years, the company's growth has been particularly remarkable; to keep pace and to allow for future developments, a global office expansion programme is underway.
ETC's London base is the latest of the company's premises to undergo a significant revamp. The recent construction work at the two-storey facility involved a complete overhaul of the upper level of the building, including the installation of a mezzanine housing multiple open-plan work areas, several individual offices and a meeting room. The lower floor has also been reconfigured to incorporate a dedicated R&D lab and new open-plan pods for the technical service, logistics and repair teams.
The theatrically themed common space, which the premise is famous for – The Playhouse at Gypsy Corner – has been preserved. Meanwhile, the remainder of the building has been refurbished to provide a general feeling of light and space. Adorning the walls is a selection of statement prints featuring local landmarks, including the London Underground and Tower Bridge.
General Manager at ET, Matthew Brookfield commented: "Employee wellbeing is very important and with the renovations, we have created a more comfortable and pleasant work environment. ETC is not a very hierarchical company and the way the space has been configured is in keeping with this company culture."
The next phase of the programme will see the installation of a state-of-the-art container neighbourhood at the company's headquarters in Middleton, Wisconsin. Embraced worldwide for its industrial feel and funky aesthetic, shipping container architecture offers an attractive mix of fun and functionality that's a perfect fit for ETC. The development will involve a new addition to the factory building, where R&D will be consolidated into a new Container Hall comprising three-high container stacks, crisscrossing walkways, meeting rooms, break spaces and workshop courtyards.
This expansion project underlines ETC's long-term commitment to its staff. Fred Foster, founder and CEO of ETC, provided concluded comments: "We have the best people and when you have the best people, you can never stop growing. It's also why it's really easy to make this kind of investment to keep them happy."
https://www.etcconnect.com