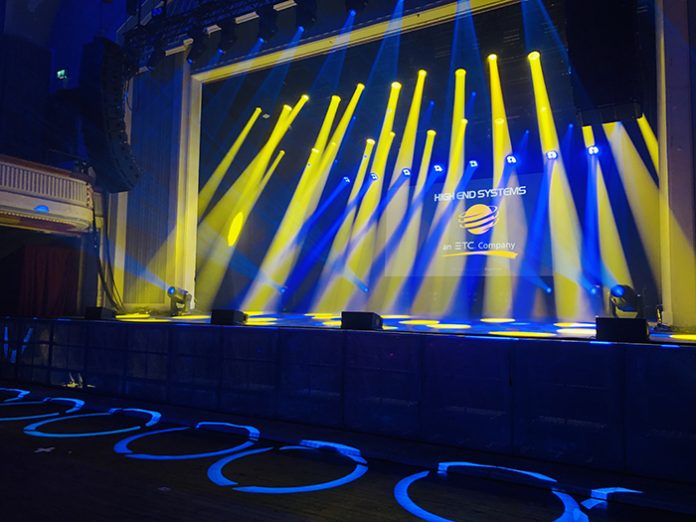 DIGITAL EXCLUSIVE: ETC and High End Systems held an exclusive showcase event at Edinburgh's Leith Theatre on the 19 August. Exhibiting a range of its latest lighting technology, the event saw a packed-out reception of industry professionals, freelancers and press all there to see the company's latest range and develop new and exciting relationships.
The fitting venue was kitted out with a huge range of innovative new products that illuminated the room in neon, kaleidoscopic hues during a presentation led by Calder Sibbald, Director at Black Light, an installation company which so heavily relies on ETC's dynamic product range to revive many theatres across Scotland. ETC and High End Systems donated the products to Black Light that transformed the theatre into an array of colours, with eight of the new TurboRay units being used for the first time at a live event.
"I am honoured and privileged to be using these lights in the Leith," explained Calder. "Our partners at ETC and High End Systems very kindly donated every light in this venue, allowing us to make this happen successfully."
The dynamic show included an extensive range of products from ETC and High End Systems. The SolaFrame 750 began the show with a collection of exciting features including 6-50° zoom, framing shutters, CMY mixing, and a colour wheel making the fixture ideal for theatres, studios and large events.
The SolaFrame 3000 was also demonstrated – hailed as 'brighter than bright', the beams filled the historic theatre along with punchy output and unprecedented effects from the lightweight and compact SolaHyBeam. The SolaSpot 2000 cast a range of shadows across the theatre's dancefloor using its smooth zoom, iris and rotating and fixed gobos.
The SolaWash 2000 was also on show, using a 600W bright white LED source, multiple colour and effects systems and an incredibly versatile zoom range, resulting in revolutionary new lighting looks. ETC premiered The SolaFrame 1000, with a 20,000 lumen output, full framing shutters, rotating and fixed gobo wheels, multiple colour systems and a 12°-40° zoom, while the SolaSpot 3000 flashed out amazing, vivid colour that will no doubt be an excellent choice for theatre lighting designers.
High End Systems also showcased QUAD, which gave brand new visuals and classic ACL animated searchlight patterns. The QUAD features four RGBW LEDs with independent X & Y module control, four high-efficiency TIR lenses and a high powered indigo backlight system. The fixture also includes 540° pan and 265° tilt, offering unprecedented movement capabilities.
Probably the most exciting of the evening's products was the TurboRay. With a retro design that allows the light to shine through and illuminate the durable optical plastic, it is more than just a RGBW. Additional deep red and blue dichroics allow the fixture to go deep while also giving a beautiful 3,200K CTO. The TurboRay is described as 'one of a kind' as the gobo wheel and other features produce spectacular textures unseen in any other fixture.
Tania Lesage, Brand Manager of High End Systems said: "The Sola range is really for all types of events, large and small. We have a complete range going from very small fixtures to extremely big and bright fixtures and they are suitable for a variety of markets including live events, television and fixed installations. We are very proud and excited about this range especially the TurboRay as tonight will be the first ever time it is being used at a live event."
The evening was a perfect way for ETC and High End Systems to showcase its newest product installations at the iconic Edinburgh theatre. The venue has recently played host to a number of breakthrough artists such as Kate Tempest, Jarvis Cocker and Anna Calvi, as well as being a focal point in this year's Edinburgh International Festival. The Leith Theatre is now as colourful as the art, music and culture that inhabits its historic walls.