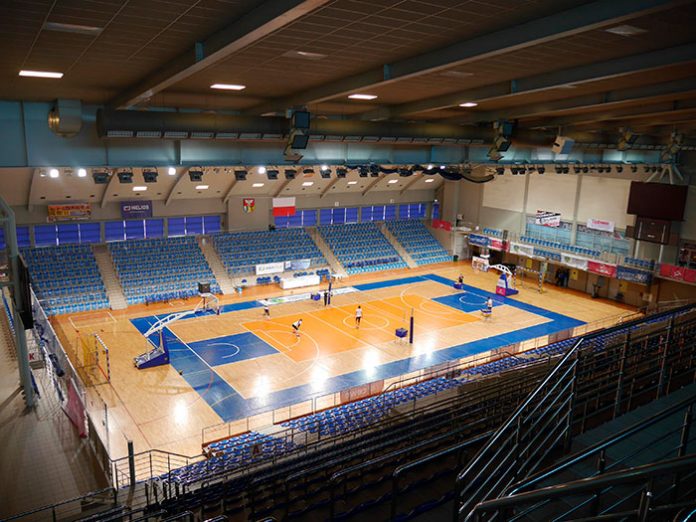 A complete refurbishment of Hala Widowiskowo – has delivered the city of Dąbrowa Górnicza in southern Poland with a world class multi-purpose sports complex. The venue not only serves the region for sports, but it also provides a significant arena for commercial and cultural events and entertainment. Gorycki & Sznyterman were the appointed audio consultants for the project, with the main equipment supplied by Tommex Żebrowscy and installation by Nexus New Technologies.
The audio system, which combines communications and life safety throughout the entire complex, is controlled by a g+m elektronik ag APS-APROSYS system with a Dynacord P 64 modular network compatible audio matrix providing signal processing, system monitoring and remote operability. APS-APROSYS amplifiers drive the main loudspeaker systems throughout the venue with APS modules configured for voice evacuation.
The central sports and entertainment hall of Hala Widowiskowo – Sportowa has a spectator capacity of 3,000. The choice of loudspeakers was critical with the system being used for commentary, events and life safety. Community R2's were chosen for their overall audio quality, with their high directivity a critical factor for maintaining speech intelligibility in the difficult acoustic conditions of the sports hall. A combination of 11 R2-94, six R2-77 and three R2-52 loudspeakers gave the dispersion patterns required to provide optimum coverage of the hall for all spectators.
For extended low frequency power and impact, the R SERIES are complemented by four Community I SERIES IS6-215 dual 15-inch subwoofers, independently driven by four Dynacord DSA 8212 amplifiers equipped with RCM 810 modules. The subwoofers enhance the system for entertainment, but are switched off during activation of the system for life safety.
"The Hala Widowiskowo – Sportowa audio system provides a state-of-the-art, reliable solution for combining life safety, communication and entertainment," said Marcin Zimny, Commercial Director of Tommex. "It is simple to use for staff, self-monitoring in the unlikely event of a problem and delivers excellent audio quality for visitors' enjoyment and safety."