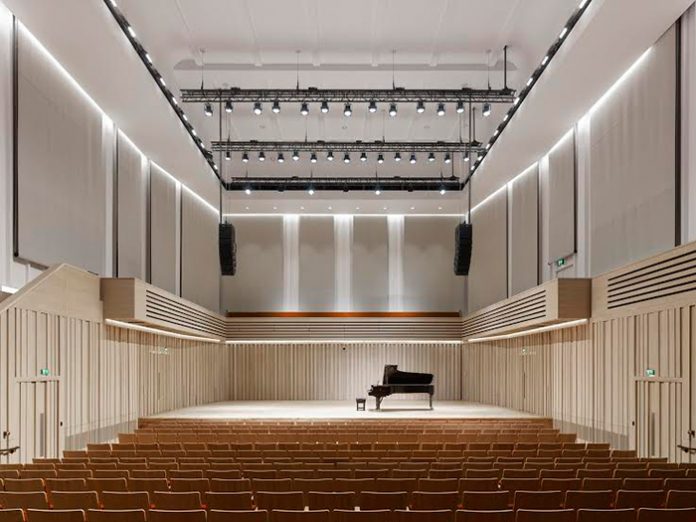 Situated in the heart of Manchester's medieval quarter, Chetham's School of Music is the largest specialist music school in the UK and the only one in the north of England. It is also home to Manchester's newest world-class performance venue, the Stoller Hall, due to be inaugurated in April 2017. Designed by architects Stephenson Studio with acoustic design by Arup, Chetham's turned to specialist consultants Theatre Projects to specify the sound and communications systems which were installed by Northern Light. The sound reinforcement system that best matched the brief and was in keeping with the acoustics of the room was an EM Acoustics HALO-C system supplemented by EMS-51s.
Theatre Projects' senior consultant John Riddell takes up the story: "Price and quality were equally important factors for Chetham's," he explained. "The 480-seat Stoller Hall features an acoustic design by Arup that delivers the highest standard in isolation, services noise and room acoustic. It was important to us to match the natural acoustic with a loudspeaker system that produces a flat response and requires as little processing as possible; something we know we can rely on EM Acoustics to provide. We also had to adhere to strict budgetary guidelines, so all the more reason to turn to EM Acoustics as we know that they have a range of boxes to suit our design intent to provide high quality loudspeakers at exceptional value. Whenever we present EM to our clients, they are invariably impressed, and Chetham's was no exception."
Furthermore, the system had to be flexible as the space will be used for a wide variety of performances, ranging from unamplified ensemble and orchestral work where the arrays will be quickly raised out of sight, to jazz, electronic and acoustic-electric programs, as well as the spoken word. Crystalline intelligibility and ease of handling/rigging were thus also important factors.
TP equipment designer Pablo Riñón worked with EM Acoustics' Ed Kinsella to design the system, ultimately settling on a pair of HALO-C arrays comprising six HALO-C cabinets plus a HALO-CS compact subwoofer per side for the main rig, supplemented by six EMS-51 ultra-compact full range enclosures for platform in-fill. The system is powered by a pair of EM Acoustics AQ-10s and an AQ-3 power amplifier.
"When flown at optimal height, the HALO-C arrays provide even SPL coverage throughout the auditorium, superb speech intelligibility and sufficient power to accurately reproduce most styles of music," continued Riddell. "We also have the option to fly the arrays at a lower level to help keep an onstage image for more naturalistic imaging and corporate events. That will mean that the array angles will need to be adjusted accordingly, but fortunately that's a very straightforward operation. The Stoller Hall is a wonderful asset for the highly gifted student players of Chetham's and visiting performers alike. The opening season is already shaping up offer a wonderful variety of acts; we are confident that the HALO-C system will effortlessly deliver the best possible audio experience for them all".