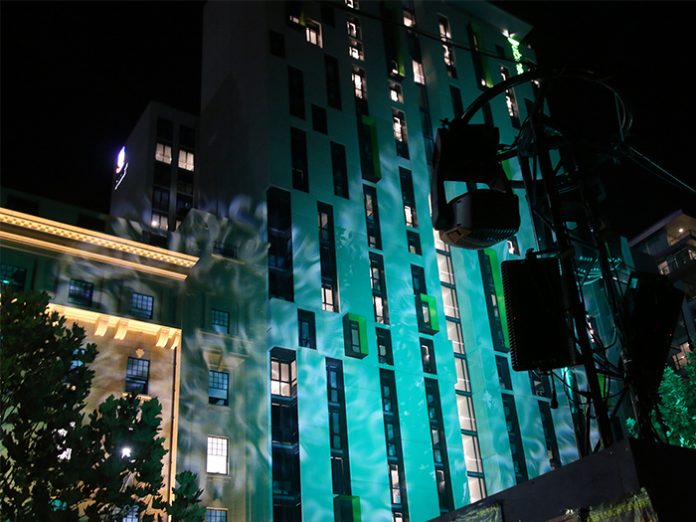 Novatech Creative Event Technology has given its 12 IP65-rated Elation Proteus Hybrid fixtures some punishment over the last few months. First, they left them outside for five weeks in February in Adelaide, copping the full heat of a SA summer. They then migrated north for four weeks on the beach at The Gold Coast, as part of the Commonwealth Games.
The Adelaide Fringe Festival's 'Parade of Light' saw projection art from creatives including The Electric Canvas and Illuminart light up the beautiful heritage-listed buildings along Adelaide's North Terrace, while Novatech's Proteus stock beamed colours and break-ups.
"We had the Proteus out in three pods of four, controlled from a PC," said Ashley Gabriel, Director of Sales and Marketing at Novatech. "We were projecting across a major six-lane road onto buildings, while fighting lots of ambient light and a background LED wash. The Proteus punched through really well. Their light output is chunky and bright, even when using their prism."
The elation Proteus Hybrid is a beam, spot, and wash fixture running the Philips MSD Platinum 21R 470W 80 CRI 8,000K lamp, producing over 23,000 lumens. The motorised zoom from extends from 2° in beam mode to 38° in spot mode or 40° in wash mode. The Hybrids include CMY and linear CTO colour mixing, 14 dichroic colours including CTB, CTO, and UV, eight rotating glass interchangeable and 14 static-stamped metal gobos, full 360° bi-directional animation wheel, 8-facet and linear rotating prisms, and a frost filter. In addition to the Hybrid model, Proteus is also available as a Beam, producing a precise 2˚ beam aperture. Both models are available as an IP65 White Marine Grade variant.
The next challenge for the Proteus was surviving four weeks on the foreshore of The Gold Coast. Four Proteus were mounted on a stage for aerial lighting, a further four mounted on that stage's FOH tower, and the remaining four used for site lighting and break-up on buildings. Control was courtesy of a High End Systems Hog 4. "All twelve units came back without anything getting in to them," explained Ashley. "There was no ingress of any sand or moisture from the beach, and no corrosion, which we saw in some other equipment. The Proteus came back in to our warehouse and went straight back out."
"At Novatech, we like to try new things," concluded Ashley, "But we need to be certain that the product is high quality and will have longevity. We needed a fixture that was weatherproof and didn't have to be put in a dome. We enjoy working with Lexair and know that they'll be there with excellent product support for the long working life of these fixtures. That's why we chose the Elation Proteus."