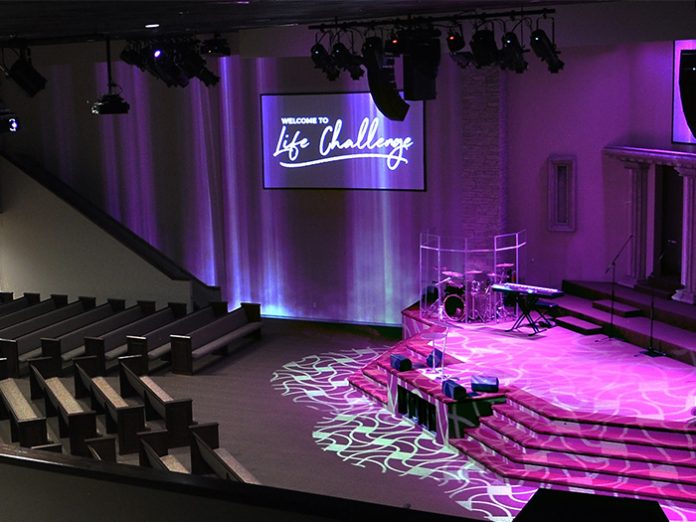 Life Challenge Church in Odessa, TX, has recently renovated its sanctuary, and one of the key components is a state-of-the-art Adamson IS-Series audio system supplied and serviced by Beaumont, TX's Sweet Southern Sound.
"Administrators at Life Challenge had a vision for a beautiful new sanctuary that would include state-of-the-art audio, lighting, and video systems," said Sweet Southern Sound Owner Clint Hill.
"When we came into the project, Adamson's IS-Series had just recently hit the market and we knew right away that it was the ideal solution to meet their needs. In addition to the top-tier audio quality and intelligibility for which Adamson is well known, the IS-Series' clean look and discreet rigging system keeps the focus on the aesthetic of the space and, more importantly, the words or music being shared."
Adamson's IS-Series packs the company's sophisticated tour-grade technology into sleek, architecturally friendly boxes with rugged but unobtrusive rigging solutions. The series is currently comprised of the IS7 and IS10 two-way, full-range line array cabinets, the IS7p and IS10p point source cabinets, and IS118 and IS119 subwoofers.
The left-right system at Life Challenge features eight Adamson IS7 cabinets per side with a pair of IS118 subwoofers flown behind each array. An additional three IS118s are positioned under the centre lip of the stage.
Life Challenge is home to a large and diverse worship community. In addition to its weekly Sunday services, Life Challenge presents its Epic Sunday School children's ministry, Elev8 Youth Ministry, community-building classes, and Family Prayer nights.
On top of the need for clear and intelligible speech, music is also a vital component to many of Life Challenge's initiatives, making the IS-Series the ideal solution.
"We've received very positive comments from our community about our new sanctuary, and our Adamson IS-Series system is a significant reason why," added Gabe Loera, Technical Director at Life Challenge. "The sound quality throughout the sanctuary is incredible for both speech and music, and on top of that performance, we've been more than pleased with the support of Adamson and Sweet Southern Sound throughout the entire process."