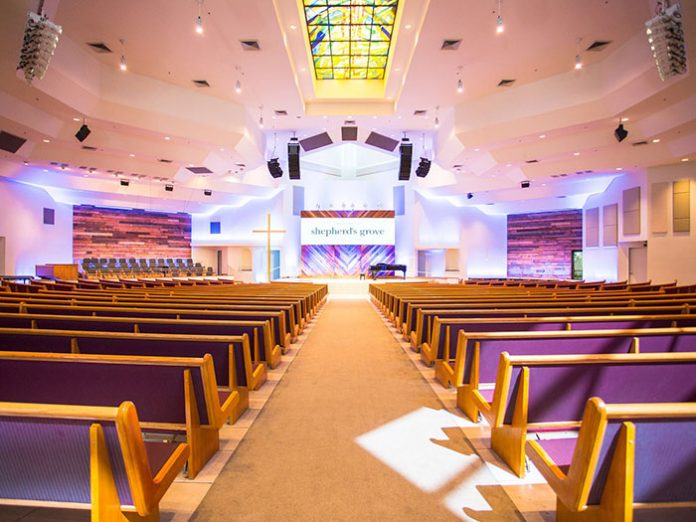 Pacific Coast Entertainment recently specified and installed an Elation lighting system at Shepherd's Grove Church in Garden Grove, California, the esteemed church from where the popular Hour of Power Christian television program is broadcast weekly to a worldwide audience.
The facility's main sanctuary features a beautiful stained-glass skylight that was backlit by outdoor ambient lighting. After the skylight was sealed in order to give the venue more control of their ambient light levels, an alternative back white-light solution was found by installing 24 warm-white Lumina Strip LED wash lights, turning the skylight into a brightness-controllable lightbox. Kent Flemming of Pacific Coast Entertainment (pacificcoastentertainment.com) was the main lighting designer on the install, working with Shepherd's Grove Executive Pastor Chad Blake.
Kent explained the decision to go with the Lumina Strip: "Due to the accessibility issues of getting to the fixtures once installed, we needed an LED strip light that was reliable. We wanted them to be LED in order to cut down on power needs and heat buildup within the light box. The fixtures needed to emulate the sunlight that used to come through the skylight but needed to give the facility the power to go black on the skylight for lighting control purposes to eliminate most of the ambient lighting coming into the sanctuary". Kent stated the Lumina Strips now work perfectly, allowing just enough punch to the skylight so as not to diffuse light throughout the sanctuary.
Pacific Coast Entertainment also replaced 10 chandeliers with 10 Elation Colour Pendant colour-changing LED lights with white housings for house lights. Kent explained how the Colour Pendants are used as general illumination for day-to-day operations throughout the congregation and replace their older fluorescent chandeliers. They also afford the flexibility to add colour during special events like Easter services.
Completed in March of this year, the new lighting gear at Sheperd's Grove is primarily used to add illumination for the Hour of Power television broadcast but is also used for all services within the sanctuary. First broadcast in 1970, millions of people around the world tune in to Hour of Power each week for inspiring music, messages and interviews.