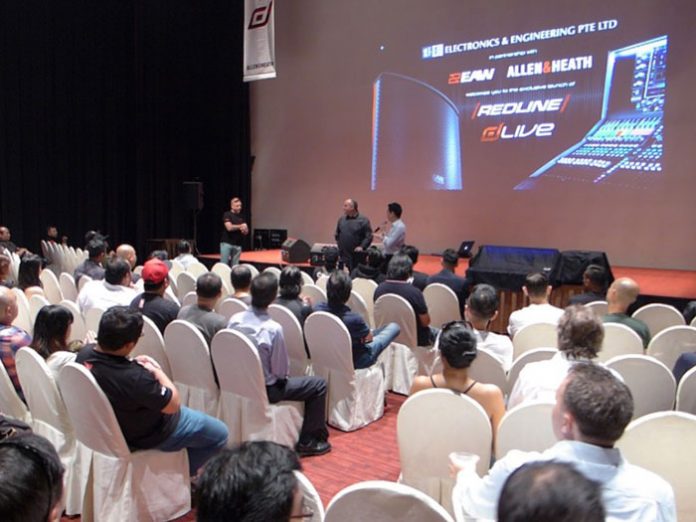 Electronics & Engineering officially launched the EAW Redline speakers and A&H dLive console in Singapore and Malaysia in early October. The Singapore launch held in central Singapore at the Joyden Hall attracted a large crowd of over 100 guests. Guests ranged from rental & staging companies, houses of worship, schools and universities, venues as well as system integrators and consultants.
James Bamlett, ASG Specialist, APAC Region for EAW touched on the unique aspects of the Redline series highlighting the ease with which the system can be deployed, without the need for EQ for a clear and robust sound delivery. Alex Schloesser, Business Development Manager, Asia-Pacific – Latin America of Global Market Management, gave the guests a rundown on how the dLive came about. Interesting facts including the thought process on the design and the materials used for the dLive helped guests to appreciate the detailed process A&H had gone through before release of the dLive console.
Guests got to listen to the EAW Redline as well as touch and feel the dLive. Many swamped James and Alex to get more details about the systems. "It has been great. It is a really good turnout and it was also a great chance to catch up with people." said James. Sharing the same sentiment, Alex commented that the turnout was great. The event in Kuala Lumpur, Malaysia, elicited a similar response.
Gary Goh, Deputy MD of E&E commented: "There was definitely a strong interest in the solutions and we are pleased to bring the latest technologies to the industry. The brands were great in getting involved and sharing their expertise with the industry and we look forward to more collaborations in the future."