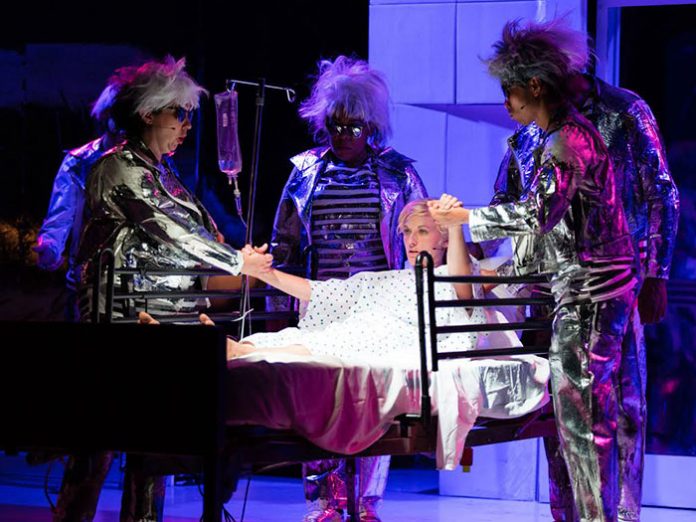 It's likely that Andy Warhol would have appreciated ANDY: A Popera, the new interactive production from Opera Philadelphia and The Bearded Ladies Cabaret that was inspired by the iconic artist's trail blazing career. Like Warhol's work, the opera / cabaret meshes two very different genres together, playfully defies conventions and (being interactive) gives its audience a shot at 15 minutes of fame under a lighting design anchored by 12 Rogue R2 Wash fixtures from Chauvet Professional that were provided by Squeek Lights.
Andy, whose New York studio was called The Factory, undoubtedly also would also have delighted in the production's venue – a warehouse on Philadelphia's North American Street. Staging this production in such a hardcore industrial setting was in keeping with the spirit of the artistic genius that turned things like soup cans and Coke bottles into art, but it did present a lighting challenge. Mike Inwood, Lighting Designer for The Bearded Ladies met this challenge in true Warhol-like fashion, turning the necessary into the aesthetic through the skillful use of his lighting rig.
Whether it was illuminating a performer by bouncing light off a mirrored surface or using a 12° zoom to navigate tight spaces, the Canadian-born designer was able to pull a diverse range of scenic elements together with lighting. "Designing a production in a raw, found space always presents significant logistical challenges" said Mike. "We needed to build in all the infrastructure that's usually a given in a traditional performance space. We brought in everything: a generator to power the gear, and all cabling and lighting equipment. We also had lighting positions rigged from existing building structure. Because of budgetary concerns, it was essential that we had a versatile lighting plot. The Rogue R2s provided flexibility at a cost that was affordable to us."
Mike positioned six Rogue R2 units as evenly spaced top washes and arranged the remaining six as back diagonal / step high side washes, three on each side of the stage. He worked the Rogue washes with a package of ellipsoidals, par fixtures and two Rogue R1 Spots. "We used the R1 Spots as movable specials," he said. "They have proven to be very helpful for picking out characters in key moments of the show all over the space, from the middle of the audience, to a massive upstage scaffolding shelf, to the top of a forklift."
A major scenic element in the production is a 15 x 15 x 10-inch crate that hinges open to dramatic effect at the start of each performance. Once this happens, the open lid of the crate becomes a large projection surface. Mike positioned his lighting fixtures to allow this dramatic opening moment to be accomplished unobstructed, and also to ensure the minimum amount of direct bounce onto the projection screen overhead.
"Mirrored and white surfaces played a significant role in the scenic design, so being able to control the light in the space was of paramount importance," said Mike. "In some cases, I was using the R2s at 12° zoom in order to light a performer sitting in between two closely spaced rolling mirror wagons. I discovered the most interesting way to do this was to bounce light off of each mirror to illuminate the performer. This created a watery, dappled effect that the punch of the R2s made very satisfying.
"Another challenge has to do with embracing the elements of Cabaret performance that makes the Bearded Ladies the company they are," continued Mike. "The performers are frequently crossing the boundary between stage and audience, so we needed a system that could allow us to pick out performers when they ventured into the house to interact with the crowd."
Elaborating on the latter point, Mike noted that one of the design goals of the production was to show the stage as a very fluid environment that readily morphs from a realistic warehouse into dreamscape of Andy Warhol's mind. The Rogue R2 Wash's ability to move quickly and to adjust colour and focus smoothly was vital to the design concept. "We wanted to make sweeping changes to the world on stage in real time as the audience watches," he said. "Being able to ride the energy of the show without letting it drop was vital; the R2s did the show a huge service in accomplishing this goal."
Another service the Rogue R2 Wash rendered was to reduce power consumption. "One of the reasons the R2 units were so valuable was their low power consumption," said Mike. "Since they're LED units it helped to keep power needs within the limitations imposed by the capabilities of the space."
Mike credits his collaborators with providing him with an opportunity to create his expressive lighting design. "The success of our design depended on many non-lighting elements falling into place," he said. "Oona Curley our Scenic Designer, Rebecca Kanach in costumes, Daniel Perelstein in sound, Jorge Cousineau in video and of course our director John Jarboe all contributed to making my work as a lighting designer stronger."
Throughout the project, Andy Warhol's body of work served as a source of inspiration and point of reference for everyone involved in ANDY: A Popera. "Being able to reference his colour choices in specific works was very important to my design," said Mike. "There's a party scene in the opera that I modeled after images of his Exploding Plastic Inevitable concert/performance art experience. Again, the R2s were very helpful in producing that prismatic psychedelic world of a 1960s happening."
As a production, Exploding Plastic Inevitable, which featured The Velvet Underground, and Nico, pioneered many innovations that became legendary on the touring circuit. Mike has thus upheld a daring and free spirited design tradition in his work for ANDY: A Popera – an accomplishment that is sure to garner him more than 15 minutes of fame.