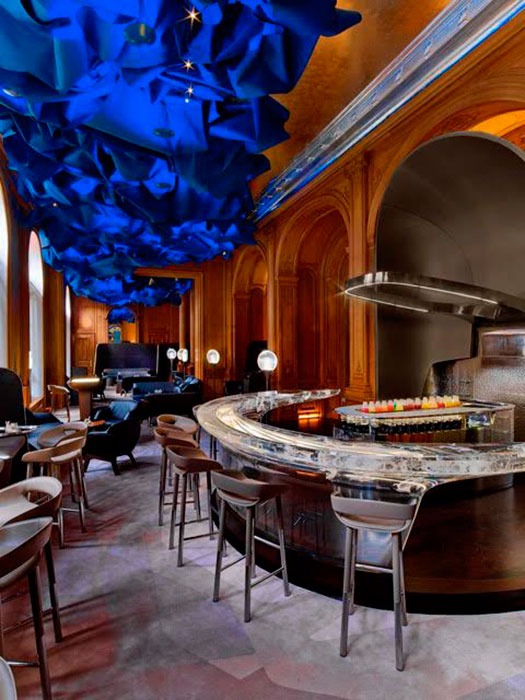 The historic Plaza Athénée Hotel in Paris recently debuted its new immersive speaker system install in its luxury Bar du Plaza Athénée featuring Amadeus loudspeakers. The new speaker system is designed to create a fourth dimension in sound for its modern, comfortable and stylish surroundings.
Designed by scenographer Etienne Berard from Atelier A/V, the Amadeus system features 25 specially placed speakers including custom SLIM versions of their ML 8 subwoofer under the bar's seating. French Designer Patrick Jouin designed all the custom furniture for the bar. Some of the Paris Fashion Week festivities were held at the hotel, and the Bar du Plaza Athénée hosted celebrations for fashion luminaries and models with a sound quality to match the hotel's other gold-standard amenities.
Gaetan BYK, Marketing Manager at Amadeus, elaborated on the special install: "We feel very privileged to work with the Plaza Athénée, a pinnacle of perfection. Le Bar du Plaza Athénée remains one of the hippest and most chic bars in Paris, a haven for celebrities and fashionistas. It was an interesting challenge to design a sound system setup matching and preserving the glamour and class of the location."
"Having our business focused on the professional audio and recording studio markets for over 20 years, we feel this is a perfect time to expand and introduce our services, products and savoir-faire to the highest-end bars, hotels, and restaurants throughout the world. This project is the perfect embodiment of our expertise at Amadeus, at the service of a new market," he added.
Michel Deluc, Director of Research and Development at Amadeus explained: "Multi-diffusion is inherent to any immersive electro-acoustical system; this concept implies using a high number of speakers, for low frequencies as well as high frequencies. The PMX 4 and ML 8 systems were perfectly complementary, which fit perfectly with this application.
"Patrick carefully thought about a completely integrated electro-acoustical system, both aesthetically as well as architecturally; this led us to design a lower-height version of the ML 8 subwoofer, including a 45° slanted front panel, making it easier to place under the seats," Michel continued."'This challenge led us to work on new loading typologies for the speakers, and to create an extremely promising product, whose theoretical concepts we plan to continue to develop in the future.
"For example, the ML 8 SLIM subwoofer's working volume is now almost doubled, and its tuning is sensibly modified, as the boomer radiates towards the ground. This ensures an increased presence in the low-end, an extended frequency range, down to 32 Hz, and an increased efficiency with +3 dB @ 60 Hz, +5 dB @ 40 Hz,' he describes in detail."
The Amadeus speakers used in the Bar du Plaza Athénée install include 18 compact PMX 4 speakers, two ML 8, eight-inch compact subwoofers, and five of Amadeus' custom SLIM version ML 8 subwoofers specially created for use in space-restricted locations. The PMX 4 speakers comprise a four-inch neodymium woofer, with a 0.8-inch tweeter mounted in coaxial mode. The speaker draws 300 watts peak from the line, under an eight-ohm impedance and produces 112 dB peak SPL. PMX 4 is the smallest in the company's PMX Series which includes the 15, 12, 10, eight and five-inch models.