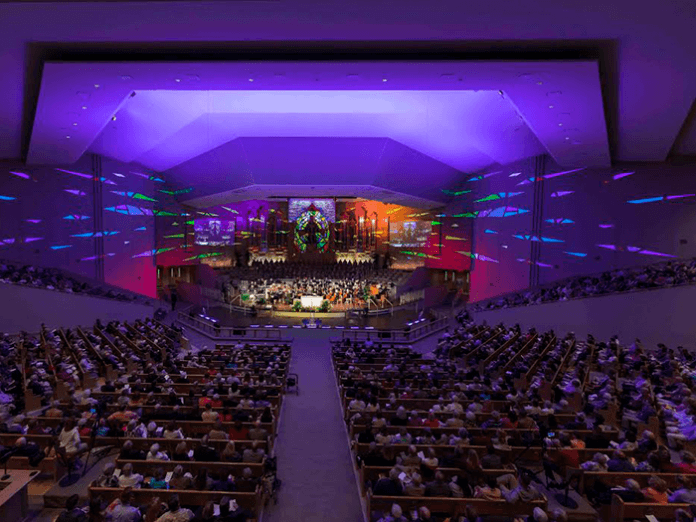 Tim Ottley, Lighting Director for Asbury United Methodist Church, Tulsa, is a great advocate of ArKaos MediaMaster PRO which he uses on an ArKaos PRO Stadium Server to create his stunning environment projection mapping within the interior of the church.
Following on from the success of the Easter presentation last year, Tim is already planning more superb visuals to enhance the upcoming Easter celebrations. "Environmental projection in church is such a leap forward from the more usual form of presentations on a screen or series of screens," Tim said. "Before we started using projection mapping, we used a centre screen and two white curtains either side to show our visuals, but this looked boxy and square, and gave the congregation a passive experience, rather like watching television. But church is not a passive environment. It is a gathering place which brings people together where the experience and the moods within a room are paramount. Environmental projection is advantageous as it envelops the congregation in a much more active, engaging way."
The interior of Asbury United Methodist Church is vast and offers huge potential as a projection surface. It is over 300ft wide and between 30-60ft high, but it has a baptistry where the centre 'screen' would be, and organ pipes to the left and right which, being rounded and shiny, take away much of the detail of a projection. "I knew with MediaMaster I would be able to map around or moderate these obstacles in a way that works for the room, and wrap the imagery over all the nooks and crannies, obscuring or accentuating the architecture as I wish," said Tim.
"It was easy to combine the surfaces and shape them to individual projection positions," he continued. "Having built the surfaces for the room and established the masking, it is now very easy to change the presentation simply by introducing new images from the image library. For example, we had only a short period of time to prepare for last year's Thanksgiving Service, so I was able to take images from the library we have built over the last few years, programme them into the surfaces I already had mapped for the room and programme these into the lighting desk to be cued like another lighting fixture. It's a very quick and easy way of working."