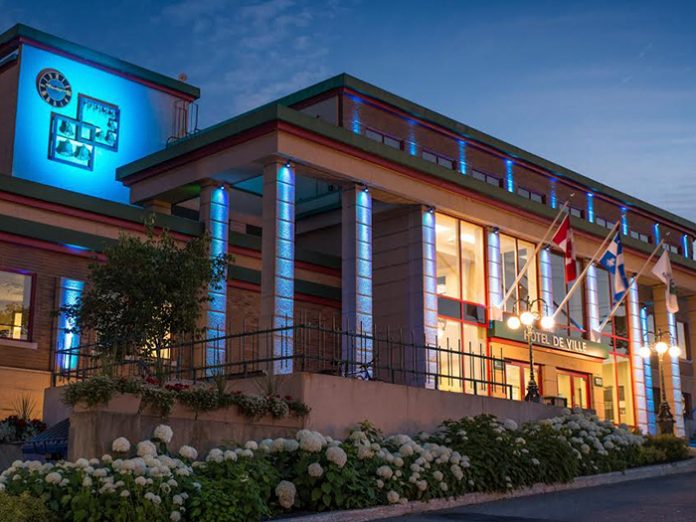 The city of Rouyn-Noranda in western Québec, Canada, is understandably proud of its beautifully-designed city hall building. Serving as the administrative building for the region's municipal government while also serving as an important cultural gathering place, its distinctive architectural design also makes it an important city landmark.
In order to highlight the building's modern architecture after dark, as well as Citizenship and Cooperation Square, which borders the building, Rouyn-Noranda's city government sought a dynamic exterior lighting scheme. Both the city hall and the square are located in the heart of the city, Citizenship and Cooperation Square being a favourite location for various citizen gatherings. "Not only did they want to make citizens proud of their city by highlighting the building architecture with a dynamic lighting solution, they also wanted to promote the city centre's culture and make this a place of meeting for all citizens," explains Ariane Cambron of XYZ Cultural Technology (xyz-tc.com/en), the AV integration company contracted by the city to draft and design an architectural lighting solution for the city hall and square.
The brief called for two lighting systems, one to light the outside of the city hall building and the second to light Citizenship and Cooperation Square. Both systems needed to be discreet and well adapted to the surroundings. "There was to be no light penetration inside the building and minimal light pollution," Cambron says, "so we avoided uplighting. Since everything was exterior, the spots and the system had to be small but powerful."
The lighting upgrade was completed in January of 2016 and consists of IP-rated Elation Professional LED lighting: 29 ELAR Q1 colour-changing Par lights, 5 ELAR EXTQW FLOOD HP colour-changing wash lights and a SixPar 300 IP colour-changing Par fixture.
"The small footprint of LED was important as was RGBW on all fixtures," Cambron said. "Also, as the throw distances are pretty substantial they had to have great output." The Elation fixtures are located at multiple locations on the exterior façade of the building with the ELAR Q1s downlighting a series of columns and ELAR Floods and ELAR Q1s washing several areas of the building's façade.
Because Rouyn-Noranda experiences all the harsh weather that comes with a Canadian winter, another important feature of the fixtures was an IP65 rating at minimum. "The fixtures had to be exceptionally robust to be able to withstand the frigid Abitibian winter climate," Cambron says, "which often reaches 20 degrees below zero Celsius." Rouyn-Noranda is the capital of the Abitibi-Temiscamingue administrative region in Québec.
XYZ Cultural Technology served as the principal contractor and technical director on the project, handling design, equipment supply, integration and programming. Lighting design was by XYZ Cultural Technology's Garou Blancan with XYZ's François Cyr helping with the installation's infrastructure. The lighting system is controlled via wireless DMX, which not only made for a cleaner installation with less cabling but also lets the city easily change the colour scheme to highlight important events. Both the lighting on the building and in the square run off the same system, allowing for synchronised lighting schemes.
The versatile architectural lighting solution has allowed Rouyn-Noranda city hall to emerge at night in a dress of customised colour and has given the city the flexibility to bathe the building in any colour they choose. Summing up, Cambron says, "This project is proof that it is possible to achieve maximum impact with well-integrated lighting on a reasonable budget."