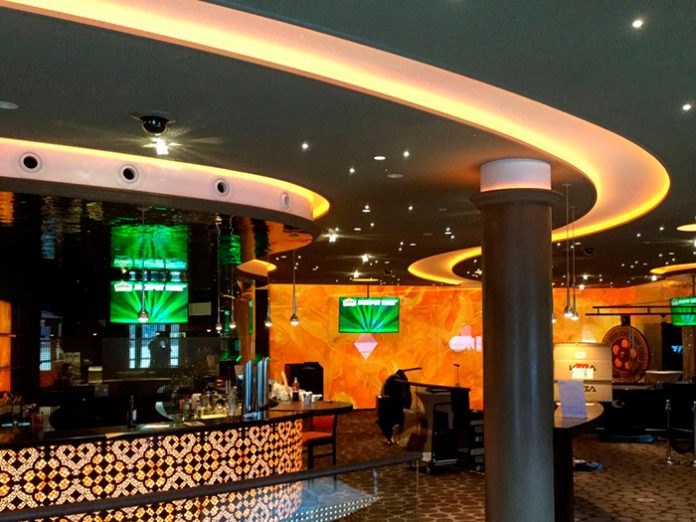 Zell am See, a year-round hotspot due to the lake and nearby Kitzsteinhorn glacier, is located in the beautiful region of Salzburger Land in Austria. In 2016 with the opening of the new Casino Zell am See, the region became an even more desired vacation destination.
The casino is laid out on a spacious over 800 m² floor divided by a varied international range of games including slot machines, Easy Roulette terminals and American Roulette tables, Black Jack tables as well as poker tables.
Eager to collaborate with local vendors, casino management tasked neighbours Musik Lenz with providing an audio system for the entire superstructure. Karl Weinand, K-array Product Specialist at Lenz, designed a solution with even coverage for background music using eight to twelve KT2cw Tornado ceiling model loudspeakers in white, partnered with four KU210 subwoofers, divided among the different areas of the casino including the gaming areas, the bar and bistro, a smoking lounge and the outside terrace.
Shortly after the initial install, the casino director decided he wanted more power to accommodate the various needs of the casino, such as live shows and events and game announcements, like Tombola and jackpot winners. The perfect solution was a slim and light-weight KR102 portable system which was added to the casino inventory.
All the equipment is connected to a zone control matrix system that is easily adjustable via iPad or directly from the music PC. Casino clients were extremely pleased with the install: "To be able to partner with reliable companies in the area is satisfying. To have partners that provide excellent service and expertise in addition to quality design is even more beneficial. We are really happy with the system and the fact that it can accommodate our many activities here."