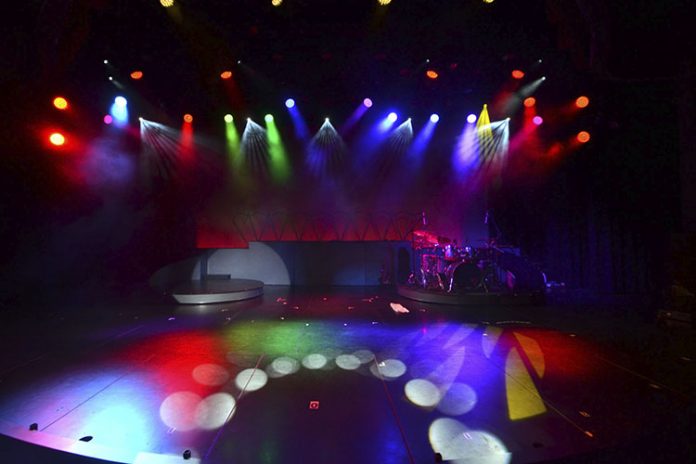 With all of its dazzling sparkle and shine, it's a safe bet to say that few cities in the world can rival the demands that Las Vegas puts on its lighting systems. For example, the Stratosphere Theater, located at the hotel and casino of the same name, runs a punishing schedule of up to three different productions a day, all of which feature unique lighting requirements. In order to best accommodate each show's visual performance needs, the resort upgraded the theater's lighting rig this past January with 28 new Max L moving lights from Italian lighting manufacturer DTS Lighting.
The Stratosphere Theater's current production roster features Pin Up, a burlesque show running five days a week, which is being switched out in early-April with The World's Greatest Rock Show. The venue also continues to host MJ Live, a nightly Michael Jackson tribute concert, as well as Spy: Escape and Evasion, an afternoon show featuring Jason Hanson of ABC's Shark Tank.
"We're seeing good results with the new lighting fixtures," noted Stratosphere Director of Entertainment Chris Townsend, who along with Lighting Lead Joe Cmeyla and Assistant/Programmer Richard Gerrish make up the technical team tasked with ensuring that the theater's lighting systems are always running properly. "Although the stage is not too large, we have a great lighting package that works really well for our shows in the venue."
Joe jumps in to point out that he required the standard moving light features of the Max L, but beyond that, he needed a smaller fixture profile to fit into their rig, and one with guaranteed reliability. The Max L met those demands. "For me, a moving light is a moving light," he said. "But as an end user, I'm also looking for ease of maintenance and durability. Furthermore, it needs it to have enough output, and Max L's 16R platinum lamp is great. The fixture also has a low physical profile – it's more compact than other moving lights and light in weight (19kg/ 42 lbs), so we're very happy with how it relates to our rig as it sits."
Standard features on DTS Lighting's Max L include zoom, rotating and fixed gobos, animation wheel, silent operation, color wheel (with 17 filters), autofocus and an impressive output of 110,000 lux at five metres.
The new Max L fixtures join other DTS family members already found in Stratosphere's lighting rig, including 36 Nick NRG 1201 LED washes, with four on the ground as spares. "We're quite happy with them all," Joe added.
According to Chris, the DTS fixtures are in near-constant use. Freelance professionals design and program the shows, and the in-house techs operate the original design and run the show cues and spotlight live to the music. There's no time for equipment to be down, and Joe and his assistant, programmer Richard Gerrish, are thrilled that they'll be supported by a two-year warranty.
Joe also points out the value of long-term relationships—including the one in this case that led to their lighting upgrade. "When Group One stepped in to become the US distributor for DTS products, I heard about it through the grapevine, and Tina Rath of 4Wall Entertainment connected me with Norm Wright. Norm is an old friend of mine; we go back 20-plus years," he explained.
"Norm said that as part of the agreement with DTS he wanted to work with past customers to remedy some situations, which is why he recommended we go with the upgraded Max L fixture. We were so pleased to have somebody out there step in to make things right with some issues on previous fixtures that were several years old."
Joe specifically gives kudos to Group One President Jack Kelly, Vice President of Technical Support Norm Wright, National Sales Manager Tyler Wise and Vice President of US Sales Vinny Finnegan, adding, "The DTS marriage with Group One is off to a great start."