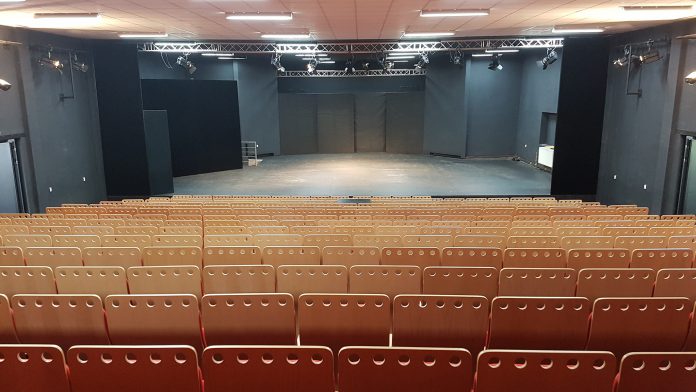 Once the steel and coal powerhouse of Czechoslovakia, the city of Ostrava in the East of the Czech Republic has transformed itself since the fall of communism in 1989 into one of central Europe's most vibrant cultural centres. In addition to hosting one of the most famous music festivals in Europe in a disused mining complex turned UNESCO World Heritage site (Colours of Ostrava), Ostrava is home to one of the most progressive theatres in the country, Divadlo Mir.
In keeping with Ostrava's transformative theme, the theatre, a former cinema, recently called upon Ostravská Kulturní S.R.O to upgrade its aging lighting and audio systems. For fresh visual input, the theatre opted to install 8 CHAUVET Professional Ovation F-165WW and 12 Ovation F-95WW Ovation ellipsoidal fixtures supplied by CHAUVET Professional distributor, Audiomaster. "Divadlo Mir's requirements couldn't have been clearer, tungsten warmth for classic theatrical looks on a strict budget," commented Michal Giža, Project Manager at Ostravská Kulturní and lifelong Ostrava resident. "Thanks to Fresnel emulating LED technology, the Ovation fixtures ticked both performance and budgetary requirements."
Positioned within the proscenium of the stage for side, cross and top lighting, the Ovation combination made their debut at the theatre in grand fashion recently, illuminating the stage adaptation of Roman Polanski's 2011 film Bůh Masakru (carnage). The Ovation F-165WW and F-95WW fixtures were specified for their ability to provide a mixture of soft and concentrated wash effect lighting for the stage with adjustable motorised zoom (with a range from 25° to 76° and 21° to 83° respectively) and a 16-bit dimming curve on both fixtures providing all the tools for a full spectrum of theatrical lighting.
"In considering fixtures for the installation, it was vital to retain the classic dimming curve of the tungsten fixtures," commented Michal. "The Ovation fixtures provide audiences and actors with the familiarity of the classic tungsten dimming curve."
In addition to providing the theatre with a toolbox of classic theatre looks, the LED technology of the Ovation fixtures also guarantees a number of practical advantages in terms of maintenance and running costs. "Thanks to the LED light source of the Ovation fixtures, the theatre's electricity costs will be significantly minimised," commented Michal. "What's more, the reliability of the LED light source will ensure that the theatre will not have to waste time and effort replacing burnt out bulbs in the future."
The addition of the CHAUVET Professional Ovation fixtures at the Divadlo Mir can be seen as something of a metaphor for rejuvenation and regeneration of the city of Ostrava itself. Although the theatre has retained its tools to provide classic lighting looks, the installation has enabled the theatre to modernise and adapt for the next generation of dramaturges, actors, actresses, audiences and lighting designers. "With the Ovation fixtures, the theatre has the best of both worlds," concluded Michal. "As a result, the theatre can continue to act as a beacon for Ostrava's cultural output."